7 Best Chrome Extensions for Color Picker: Expert Choices for Efficient Designing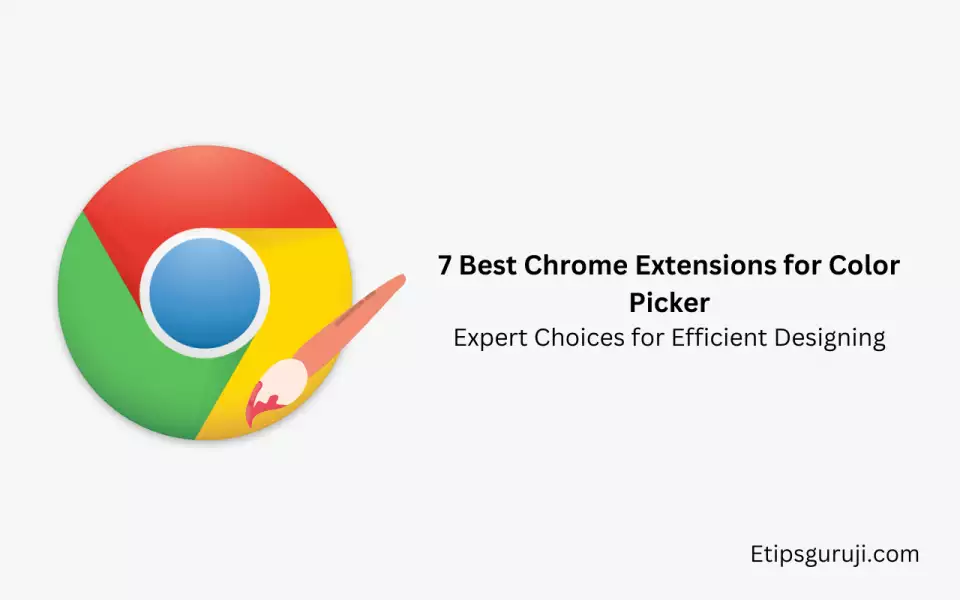 7 Best Chrome Extensions for Color Pickers
1. ColorZilla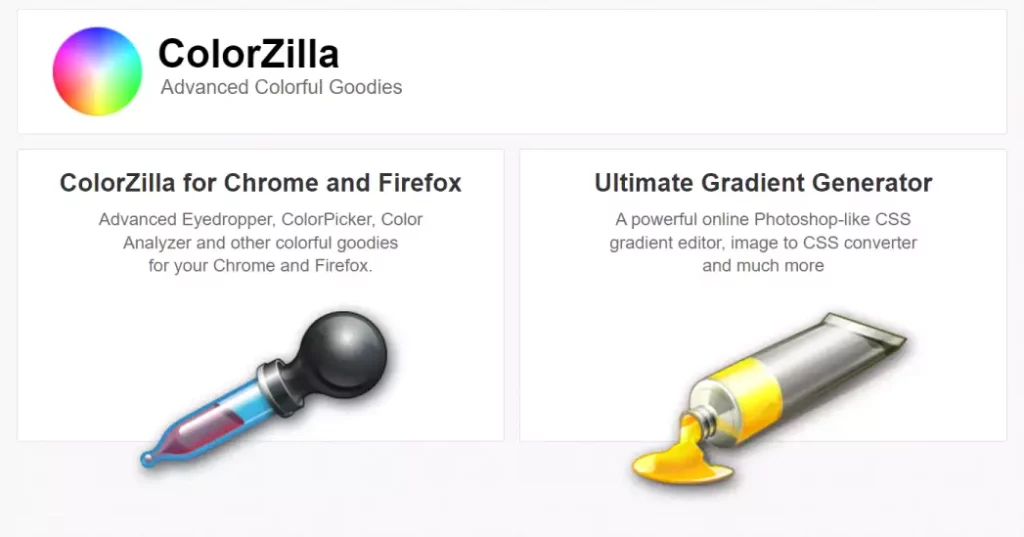 ColorZilla is an advanced color picker extension that has been widely praised for its impressive capabilities and extensive feature set. Currently, with over 2 million users and an excellent rating, ColorZilla holds a strong position in the market.
Highlight features:
Photoshop-inspired color picker interface
Ultimate CSS Gradient Generator
Webpage color analyzer
Color history tracking
With powerful features and intuitive design, ColorZilla is ideal for both designers and coders who require color management tools.
2. Eye Dropper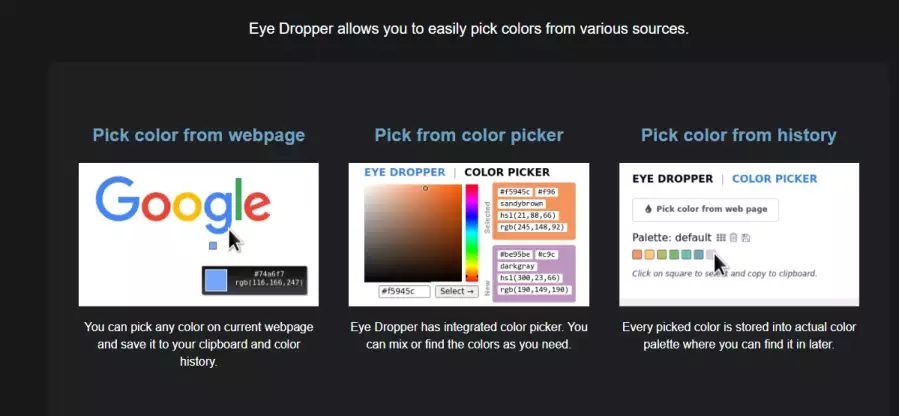 Eye Dropper is an excellent Chrome extension that helps users identify and select colors from any webpage. With over 1,000,000 users and a solid rating, this tool is known for its efficiency.
| Users | Rating |
| --- | --- |
| 1,000,000+ | 4.2/5 |
Highlight features:
Pick colors from any pixel on the webpage
Easy copy of HEX and RGB values
Custom color palettes for quick access
Give Eye Dropper a try if you're looking for a fast and easy way to select and manage colors on the web.
3. ColorPick Eyedropper

The ColorPick Eyedropper extension sits comfortably among the best color picker tools. With a sizable user base and great ratings, it is a go-to choice for many professionals.
| Users | Rating |
| --- | --- |
| 1,000,000+ | 4.1/5 |
Highlight features:
Real-time color preview
Customizable keyboard shortcuts
RGB and HEX color format support
ColorPick Eyedropper should be on your list if you need a reliable and customizable color picker for your everyday tasks.
4. Instant Eyedropper (Windows Software)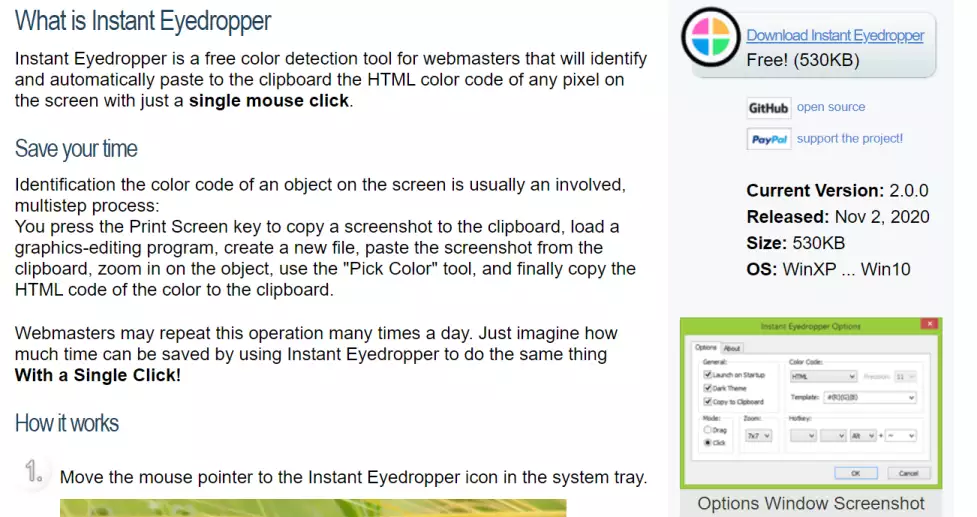 Instant Eyedropper offers seamless color selection that saves both time and effort. With a streamlined interface and respectable user satisfaction scores, it is a valuable addition to any designer's toolkit.
Highlight features:
Single click color selection
Automatic copying of color values to clipboard
Customizable output formats
Consider Instant Eyedropper for a no-fuss, easy-to-use color grabbing tool that gets the job done.
5. Color by Fardos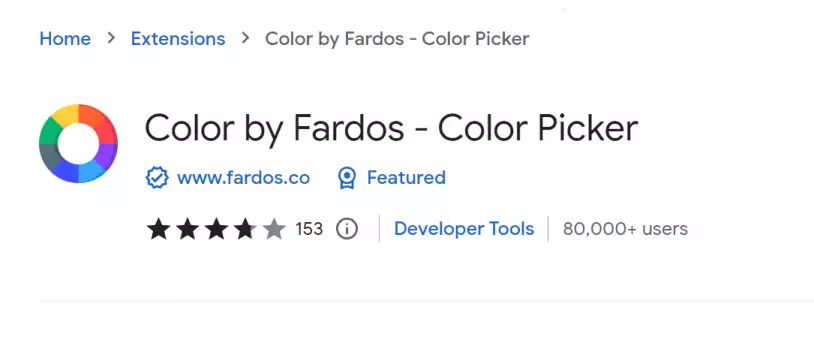 Color by Fardos is a sleek color picker extension that offers a clean and user-friendly interface. With a growing user base and favorable ratings, Color by Fardos is a solid choice for color enthusiasts.
Highlight features:
Clean user interface
Customizable color palette management
Auto-updated HEX and RGB values
Choose Color by Fardos if you appreciate a clutter-free workspace and easy color management.
6. Just Color Picker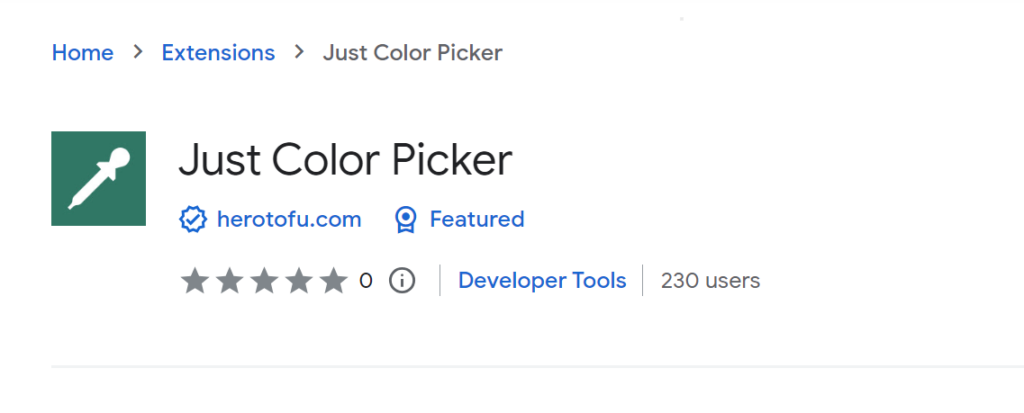 Just Color Picker is a reliable color picker extension that wins hearts with its simplicity. It has a strong following of users and impressive ratings, thanks to its no-frills approach.
Highlight features:
Lightweight design
Zoomed preview of selected colors
Smart saving of color history
Opt for Just Color Picker when you need a simple yet effective color picking solution.
7. Web Paint

The Web Paint extension allows users to draw and highlight on websites with a range of colors. With a substantial user base and a good reputation, it is perfect for annotation and notes.
Highlight features:
Built-in shapes and lines
Drawing and highlighting with ease
Full-spectrum color selection
Choose Web Paint for an extension that combines color picking and annotation capabilities for a unique workflow experience.
Features to Look For
When selecting the best Chrome extensions for color picking, there are several key features to consider. These features ensure that the color picker is efficient, user-friendly, and versatile for your design projects.
1. Ease of Use
Ease of use is crucial in a color picker extension as it allows you to quickly identify and select colors without any unnecessary complications. Look for extensions with an intuitive interface that is easy to navigate and understand. Features like a visual color wheel, simple sliders, or an eyedropper tool contribute to a seamless user experience.
2. Multiple Color Format Support
A great color picker extension should support various color formats, such as HEX, RGB, and HSL. This ensures that you can easily switch between formats to suit your design project's specific requirements. Some extensions also support color names and shorthand notations, offering additional flexibility.
3. Real-Time Color Picking
Real-time color picking is essential for a seamless design workflow, as it enables you to see and select colors from any part of a web page instantly. Opt for a color picker extension that offers an eyedropper tool for real-time color selection and provides instant previews, updating colors as you hover over them.
4. Palette Management
Managing and organizing your color choices are crucial for efficiency, especially when working with multiple colors or projects. Look for color picker extensions that provide palette management features such as:
Saving and organizing multiple palettes
Importing and exporting color data
Customizing palette names and color labels
5. Highlighted Features
Intuitive interface with a visual color wheel
Supports HEX, RGB, HSL, Color Names, and shorthand notations
Real-time color picking with eyedropper tool
Efficient palette management features
6. Why You Should Give It a Try
Having a powerful and versatile color picker extension in your arsenal can significantly enhance your design process in terms of speed, accuracy, and organization. Choosing a color picker that aligns with the key features discussed above will ensure a user-friendly experience while providing the flexibility needed to handle a variety of design projects. Don't hesitate to explore different options and give these extensions a try – you might just find your new favorite design tool.
Advanced Features
1. Color Adjustment Tools
Color picker Chrome extensions offer various advanced features to enhance user experience, making it easier for web designers and developers to pick and use colors for their projects. One of these features includes color adjustment tools, allowing users to modify colors with unique options, such as:
Hue adjustment: Modify the color hue while maintaining its saturation and lightness.
Saturation adjustment: Adjust the saturation level independently of hue and lightness.
Brightness adjustment: Control the brightness levels of a color without affecting the hue and saturation.
These tools are particularly valuable for achieving precise color schemes, ensuring that the digital creations are visually appealing and consistent.
2. Color Gradient Generation
Another advanced feature found in some color picker extensions is color gradient generation. This functionality enables users to:
Create seamless color gradients using multiple color points.
Control the gradient direction, making it linear or radial.
Apply the generated gradient directly to CSS for easy implementation in web projects.
For example, the ColorZilla extension provides an Ultimate CSS Gradient Generator that simplifies the process of creating and implementing custom gradients.
3. Website Theme Detection
Some color picker extensions offer website theme detection features, which can be extremely helpful when working on projects that require color scheme analysis and replication. Using this feature, users can quickly:
Extract dominant and palette colors from any webpage.
Save and organize detected colors for future use.
Utilizing website theme detection allows users to maintain brand consistency, easily establish color palettes for new projects, or draw inspiration from existing designs.
| Users | Ratings |
| --- | --- |
| ColorZilla | 4.6 |
| Color Picker (by linang) | 4.3 |
| Eye Dropper | 4.2 |
Highlights Features:
Color adjustment tools for precise color selection and modification.
Color gradient generation for creating visually appealing designs.
Website theme detection for easy color scheme analysis and replication.
Why users should give it a try:
Color picker extensions with advanced features provide web designers and developers with a comprehensive set of tools to create visually captivating projects while ensuring consistency and precision in their color selections. Explore this selection of advanced features to enhance your workflow and create more engaging digital designs.