45+ Construction Tools with Images for Best Construction & Uses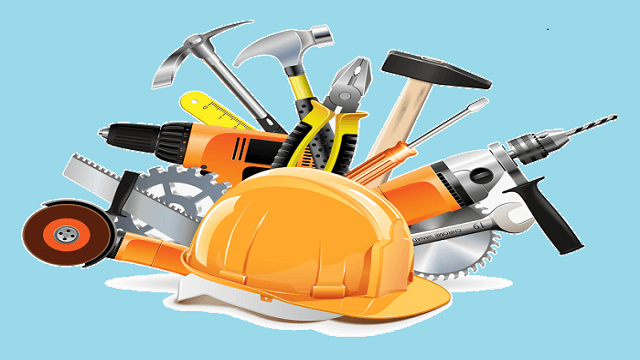 In today's world, people construct their houses in different shapes as they want. But it is not very easy to do as we think. If we think about the general contract work, we can know about the tools which are used to construct our houses. This post tells about the details of some civil engineering construction tools, building and masonry tools and their uses in various ways.
So if we want to do the job we get many construction tools and equipment. These tools help people a lot to construct houses, hotels, buildings, huge buildings, etc. When people want to make new houses the tools or equipment may require less quantity.
Construction Tools for Best Construction and Uses
There is information about the best construction tools and their uses given below.
Bolster
Crowbar
Brick Hammer
Circular Saw
Chain Lewis and Pin Lewis
Chisel
Bump Cutter
Hand Saw
Boning Rods
Digging Bar
Drill Machine
End Frames
Float
Gloves
Concrete Mixer
Measuring Box
Hoe
Jack Plane
Ladder
Line and Pins
Head Pan
Mason's Square
Measuring Tape
Measuring Wheel
Plumb Rule
Plumb Bob
Putty Knife
Polisher
Pick Axe
Earth Rammer
Rubber Boots
Spade
Safety Helmet
Sand Screen Machine
Safety Glasses
Sledge Hammer
Scratchers
Spirit Level
Straight Edge Brushes
Tile Cutter
Trowel
Piling rig
Wedge
Wheel Barrow
Vibrator
Piling Winches
Hanging Leader
Hammer Guides
Piling Hammer
Bolster
The bolster is one type of chisel. People use this to cut bricks. In this type of chisel the edge of cutting matters. For its cutting edge is wider than the width of brick. So people use it more easily to cut the bricks accurately.
Crowbar
This modern construction tool is used for digging the ground. It also helps by cleaning the grounds when it removes the roots of trees.
Brick Hammer
This construction tool is used for cutting the bricks. It also uses to push the bricks while the bricks come out.
Circular Saw
It is also used for cutting the wood boards, frames, etc. But when people need to cut the woods accurately it is very useful. It takes less time than other saws.
Chain Lewis and Pin Lewis
When people need to lift heavy stones in the whole project, they need chain Lewis and Pin Lewis.
Chisel
While people do the woodwork it's usefulness is hardly said is not needed. In the hardened surface this type of tool is required.
Bump Cutter
These types of cutters are used to level or we can say it helps to plane the concrete surfaces. These are used on concrete floors.
Hand Saw
By using Hand Saw people can cut the doors, windows all the wooden thins, slab panels, etc.
Boning Rods
These Boning rods are a type of construction tool which is made of wood. The rods are T shaped. These are used to level the trench which is dug throughout its length. At least three boning rods are required to bind a trench.
Digging Bar
Digging bar is a metal rod with solid quality which is shaped like a pin. Moreover, this equipment is employed for digging the solid and laborious surfaces of the ground.
Drill Machine
It is a construction tool that drills the solid strenuous surfaces. Drill machine is used to make holes in the walls, doors, frames, etc.
End Frames
In this case people normally use L shaped frames which is at the end of the thread. It is used as a line and pins. But people prefer to use frames as it holds the brick perfectly.
Float
Float is used to make the plastered concrete surface smoother.
Gloves
It is one type of safety maintaining tool. Gloves are needed to prevent the hands from direct contact with cement, paints, etc. It also helps people so that no injury will happen.
Concrete Mixer
A concrete mixer is a type of machine which is used to mix the ingredients water,  aggregate and cement. It mixes the concrete perfectly.
There are varieties of types of concrete mixers.
Batch Concrete Mixers
This construction tool is mainly used for mixing the ingredients i.e. actually for concrete mixing. The mixer collects the concrete mixing time by time. That's why it is called a batch mixer. When the materials are poured into drum it mixes all the things. This is a very known process that is widely used. This process is repeated until the needed quantity of concrete mix is obtained.
In general Batch mixers are of two types:
1)Drum Type Mixers
This type of mixer's concrete ingredients and then the mixing amount is mixed in a drum.
2)Pan Type Concrete Mixers
This type of concrete mixer consists of a circular pan. In that place people used to mix the concrete. The mixing is done by blades. This pan type mixers are efficient enough to use.
Continuous Concrete Mixers
Here the name Continuous Concrete Mixers itself says the job it does. These concrete mixers mix the materials continuously until the work is complete. The loading of materials is finished incessantly by screw feeders.
Measuring Box
The contractors use the measuring box to measure the quantity of sand. The normal dimensions of a measuring box are 300mm X 300mm X 400mm (length x width x depth).Various types of cement have various properties and applications. Some of the types of cement are Portland Pozzolana Cement (PPC), rapid hardening cement, etc.
Water helps to suck the mix of concrete and make it strong and stick as fast as possible. It enhances the durable power of the concrete. The role of it is a very important role within the whole project. When water is mixed with materials then the cement reacts with water and after that hydration reaction starts. And the reaction helps ingredients to form a hard matrix.
Concrete is mixed in the right manner or right proportions concerning the cement quantity. When we come to discuss we get to know there are two types of concrete mixes, i.e. nominal mix and design mix. The nominal compound is applied for ordinary construction works. Most of the cases, the nominal combine is used in 1:2:4 proportion.
Hoe
Hoe is also used as head pan  but in this case there is a metal plate that provides an acute angle.
Jack Plane
When people need to smooth the surface of doors and windows etc.This jack plane tool is very useful.
Ladder
The ladder is also required in project works. People use it to transport material to higher floors and many other works.
Line and Pins
Line and pins consist of a thread. In this the ends are connected with two solid metal rods with pinpoints. For leveling the alignment of the brick course it is very useful.
Head Pan
The Head pan is made of iron. It is used to lift the excavated soil.
Mason's Square
The construction tool named Mason's square is used to achieve the perfect right angle. It is an "L" shape.
Measuring Tape
The contractors use this to check the thickness, length, widths of the walls. It is very useful also in daily life. Generally, it is available in hardware shops.
Measuring Wheel
The measuring wheel helps to measure the distances or lengths. It contains a wheel of a known or certain diameter, that records the number of complete revolutions from that space may be measured. It makes the work easier.
Plumb Bob
Plumb bob helps to ascertain the erectness of structures. It contains a solid metal bob connected to the top of a thread. It's conjointly used lodge measure to level the instrument position.
Plumb Rule
It has a straight wooden board with equal edges. On its center a groove is provided within which plummet is placed. Once the rule is placed vertically with the wall the plummet ought to be within the groove line otherwise the wall won't be vertical.
Polisher
Polisher helps to smooth the surface of tiles, wood works, etc. The smoothening makes them shine and therefore the method is termed sharpening.
Putty Knife
Putty knife is employed level the putty ending and conjointly accustomed cut back the thickness of finish once it's additional thick.
Pick Axe
It is employed to excavate the soil. It's additionally appropriate for the soil that is kind of tough to dig with spade or hoe.
Earth ram
When the ground is excavated , the lower surface becomes uneven. To level, the surface earth ram is employed. It contains a massive square formed block at its finish with that the bottom is leveled.
Rubber Boots
During construction works, legs could harm because of contact with chemical materials like cement or physical accidents. So, for safety rubber shoes are needed.
Spade
It is used to dig the soil. It contains a metal plate also.
Safety Helmet
The safety helmet ought to be necessary for construction works. Any material or structure could fall from height throughout construction work. So, to safeguard the top from injury or any accident, this safety helmet ought to be used.
Safety Glasses
It is a safety constructing tool. To prevent the eyes from mud, chemical actions of materials, etc. Safety glasses ought to be maintained.
Sand Screen Machine
The fine aggregate which the contractors use in concrete should not contain particles. Moreover, it is also employed for plastering work.
Sledge Hammer
This tool contains a large heavy weighted metal head by which it breaks the rock layers placed in the ground.
Scratchers
It is also a civil engineering construction tool. Scratchers needs at least two coats for plastering. It is used to scratch the bottom of the coats so that the bond becomes stronger.
Spirit Level
Spirit level which is made of hard plastic with a bubble tube in the middle, is used to check the level of any kind of surface. The bubble tube is loaded up with alcohol partly.
Straight Edge Brushes
These types of brushes are used to provide finishing to the plastered surface like in floors or walls, etc.
Tile Cutter
For cutting the tiles or anything larger than the tiles, the cutter is required. Even at the joining or meeting point of floor and wall, the cutter is required.
Trowel
The trowel is used to lift cement in fewer quantities. It is built with steel and wooden handles. The end part of this tool may be pointed out.
Piling Rig
This type of commercial construction tool has a series of leaders. It supports the hammer and the pile and helps them to fix while the pile is forced into the ground.
Wedge
This tool that has a small metal blade is used to cut the hard surfaces containing rocks but it needs the sled hammer tool.
Wheel Barrow
This construction tool has two wheels and two handles at their front and back respectively. Cement, the mix of concrete is transported by this.
Vibrator
This construction tool is used to fulfill the gaps in the concrete mixture. It fills the gaps created by the air in the mixture while the contractors pour the concrete mix. There are three types of vibrators:
1) Immersion or needle concrete vibrators
2) External or Shutter Concrete Vibrator
3) Surface concrete vibrator
Piling Winches
Piling winches are generally used to lift the hammer and piles. This construction tool functions with pile frames and various powering sources like hydraulic power,  diesel or petrol engines.
There are different piling winches with different capacity such as double or triple drums winches.
Hanging Leader
Hanging leaders are specifically designed so that these can be hanged from the jib of a crane. A steel strut provides a stiff connection from the leader's foot to the machine bed frame.
Hammer Guides
When the contractors think to remove the hanging leaders, these are commonly guided by steel formwork.
Piling Hammer
There are many factors that influence to choose this type of hammer. As an example the size of the pile and weight and many other things.
These all are modern construction tools and equipment. Contractors use approx many tools for building construction. These construction tools are used for different cases. These tools work such as concrete, leveling, plastering, floor works, etc. Every construction tool is very important to get good results as their functions are varied in the whole project.  One side the contractors use these types of tools or arsenals but they also need to use some tools which help them to maintain safety. These tools prevent contractors from unexpected accidents. With the help of all these building construction equipments and tools all construction works like the wood, brick, floor, slabs works are done.
ALSO READ