Electronic Whiteboard: – What are the Uses and Benefits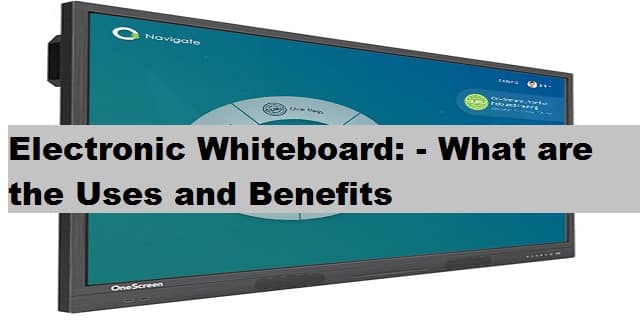 Electronic whiteboard is a versatile interactive display that helps computers to connect with the projector.  These are the medium, which helps to transforms a computer or projector into a presentation tool.
What is an Electronic Whiteboard?
Electronic whiteboard is an important hardware device generally available in schools, colleges, and offices. It is useful in the transmission of data from one computer to multiple computers.
The first interactive whiteboards were provided for use in the office. Moreover, the first electronic whiteboard was manufactured by PARC around 1990. They were used for offices, small meetings, and high profile presentation.
Related articles:
General Uses of Electronic Whiteboard
Uses for interactive whiteboards are given below:
It helps to run software that is programmed into the connected computer, such as a web search engine and more software used in the classroom for the collection of information.
It helps to click photos and notes written on an interactive whiteboard to the connected system.
Controlling the computer system while the presentation is ongoing on the whiteboard
It helps in changing the cursive writing into the graphic notes.
It helps to connect with the audience via the audio system.
Features of Electronic Whiteboard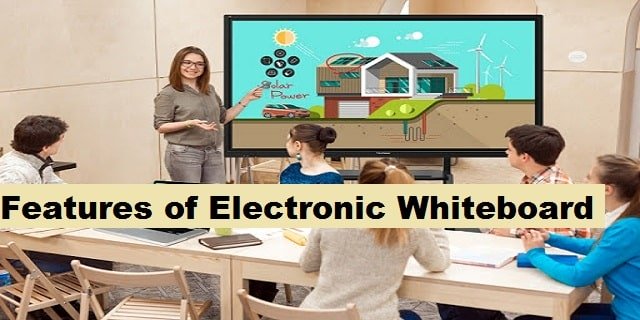 A touch screen can store all information in electronic format in any hardware device. It can scan and copy all the data from the workstation.
A projector can be useful in the making painting on a touchscreen without the help of a pen and pencil. Moreover, no actual pens are needed. You can use your fingure to draw or write.
A touch screen does not need a digital mouse input to conventional Windows applications. Example: You can touch the toolbar for searching or saving with the help of fingure.
Common Operations of Electronic Whiteboard
Operation of an infrared scan (IR touch) whiteboard
An infrared interactive whiteboard is one of the famous whiteboard display, which can connect with PC  and projector worldwide. Moreover, it helps to solve the purpose very frequently. Infrared Scan locates the location of fingure, pencil, and pen touchpoint.
It is widely used in the collaborative meeting, schools, business seminar, and offices.
Operation of a portable ultrasonic, IR pen-based interactive whiteboard
This operation includes the both Ultrasonic wave and IR pen to locate the location. These features are based on the principle of a thunderstorm, which calculates and store the time difference between the speed of light and the speed of sound.
Operation of a virtual whiteboard via an interactive projector
It is useful for the projector that helps to detect the currently active position of the IR surface to find out the image positioning. The system has been developed in 2007. Apart from this, it can suffer other problems just like other interactive whiteboards.
Overview
Electronic whiteboards are now the part of every well-settled organisation including hospital, schools, and companies. With the help of whiteboards software and hardware, they communicate and collaborate with their important vendors and clients.
FAQs
How does electronic whiteboard work?
It is a large interactive whiteboard is a large display that helps to connect the projector with PC. It works with the movement of finger, pen or pointer.
What is an online whiteboard?
A online whiteboard is a good option for both school and colleges. Moreover, it can be used by both teachers and students  for the learning purpose.
How do I write on a virtual whiteboard?
You can easily write on a virtual whiteboard with help of mouse by clicking on text. Once you click on mouse canvas, the text editor will open on screen. Now you can start editing or writing text, it will be accessible by the person who have user ID and password.