Fix: The Previous Model used in this conversation is Unavailable. We've switched you to the latest default model in ChatGPT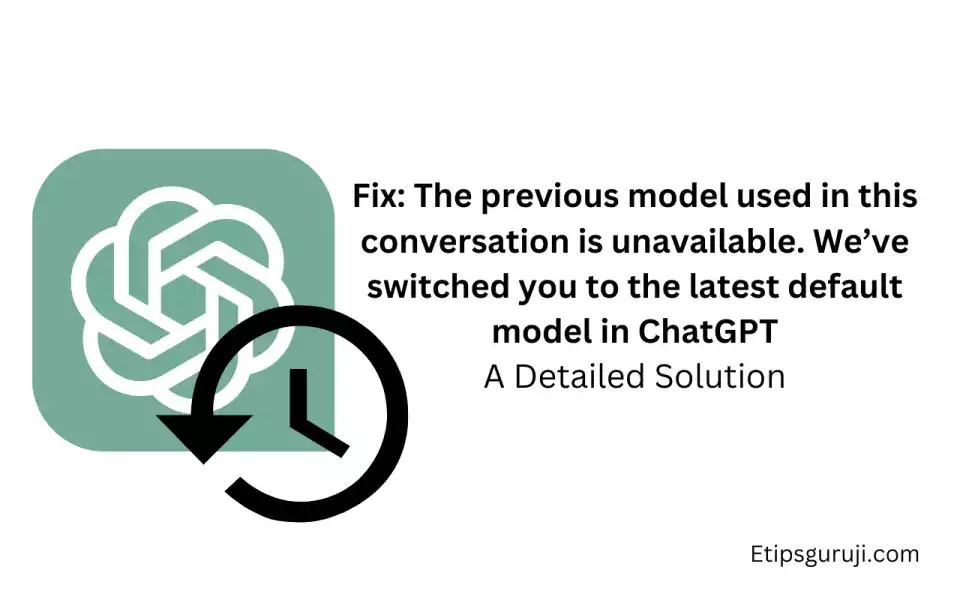 If you're a regular user of OpenAI's ChatGPT, you may have come across a situation where the model in your ongoing chat conversation changes abruptly.
One moment you're deep into a discussion with ChatGPT-4, and the next, you get a message that reads: "The previous model used in this conversation is unavailable. We've switched you to the latest default model." Quite jarring, right?
This sudden switch can disrupt the continuity and quality of your conversation. ChatGPT-4, with its enhanced capabilities, might be giving you incredibly nuanced and insightful responses.
But once you're switched to ChatGPT-3.5, you could see a noticeable decline in the complexity and depth of the AI's responses. This can be frustrating, especially if you're in the middle of an important chat.
Causes of the Problem of Previous Model Used Unavailable
So why does this model switch happen? There could be a few reasons:
Incompatibility between models: Each model has its own set of features and capabilities. ChatGPT-4 and ChatGPT-3.5 aren't just different in terms of their functionality, they're also built differently. This can sometimes lead to incompatibility issues during a conversation.
Server difficulties: The server hosting the models can encounter technical issues, which may force a switch to a different model.
User Experiences and Responses During Error
Users have reported a mix of experiences and reactions to this model switch issue. Some are mildly annoyed, while others find it significantly disruptive to their workflow.
However, the beauty of a large user community is that someone is always trying to find a solution.
Some tech-savvy users have come up with browser extensions like Superpower ChatGPT to alleviate this issue.
Solution: Using a browser extension like Superpower ChatGPT for the Previous Model Used Unavailable

Superpower ChatGPT is a browser extension that empowers users to take control of their chatbot experience. It allows you to change the model in the middle of a conversation.
So, if you get switched to ChatGPT-3.5 and you prefer ChatGPT-4, you can use Superpower ChatGPT to switch back.
Steps to Use Superpower ChatGPT
Using Superpower ChatGPT is a straightforward process:
Install the extension from your browser's extension store.
Click on the extension's icon in your browser toolbar.
From the dropdown menu, select the model you want to use.
Benefits of Superpower ChatGPT
Using Superpower ChatGPT has several advantages:
Flexibility: It allows you to switch between different models according to your preference.
Control: You're not forced to use an old or less efficient model during important conversations.
Ease of Use: It's user-friendly and requires minimal technical knowledge to operate.
Guide to Recover Lost ChatGPT History
If you've encountered the model switch problem and lost some important chat history, here's a step-by-step guide to recover it:
Open your browser and go to the ChatGPT website.
Click on the "History" tab on the left side of the page.
Scroll down to find the conversation in question. Click on it.
If you've lost the entire conversation, contact OpenAI's support team. They may be able to help.
Read More: