Professional Video Editing Tips and Techniques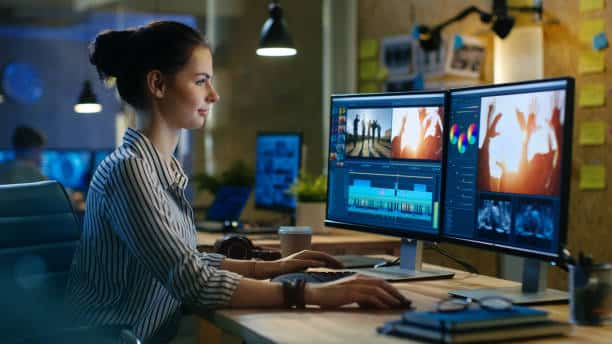 If you wish to become a professional video editor or just edit your videos for social media, then the road will be quite long. There are multiple things you need to know about video editing before you can dive in. Even if you are already acquainted with video editing, there is always room to grow.
But, to grow as a video editor, you will need to learn about video editing tips and tricks. This is what this article will teach you. We have gathered some really useful tips and tricks on how you can improve your video editing skills to become a good video editor and some key things to remember as you begin your journey.
Having the Right Computer
Before you choose the software, you must make sure you have adequate hardware. You must have a good PC or laptop to work on video editing. The main focus is to be able to run whichever video editing software you choose smoothly. There should be no log or delays while editing your videos, as this will hamper your work.
When working on a video, you want to focus all your attention on getting it right, but that will be hard if your computer cannot render the video properly. So, how do you get past this obstacle?
Get an SSD: Everyone knows a fast storage system will increase your productivity. This comes in handy when rendering a video. An SSD is expensive, but it will decrease your work time as well as rendering time.

Get more RAM: The best solution to improving your work is to get more RAM on your system. This will help speed up the time you take to work on your videos and help in multitasking.
Get a better graphics card: A graphics card is very important in video editing. The better the graphics card, the faster and smoother your video editing process will be.

The processor: The processor you are working with plays a major role in becoming a good video editor. If your processor is slow, then the entire process will take a lot of time. You might want to switch to something newer and faster.
Choose the Right Tools
Once you have the perfect video editing system, you will need to choose the right tool. Online you will find a plethora of good editing tools that are free as well as paid for. If you want the best experience of any tool, always buy it. The extra money means you will get premium tools to work with as well as good technical support.
InVideo: InVideo is a simple, scalable video creation platform with templates that help you make engaging videos in minutes. So, if you're a beginner you can use this

video editor

to create stunning videos.

Premiere Pro: This has been a big name in the video editing community. It is simple and offers a wide range of tools to edit your videos seamlessly.

Avid Media Composer: This software is used in feature-length editing movies. The key aspect of this software is the use of keyboard shortcuts to lessen the work time.

Final Cut Pro: This is a Mac software that is one of the most popular and powerful software available.

FlexClip: It is an ideal tool for beginners since it is super easy to use. With the ready video templates in diverse categories, everyone can make an engaging video in a few clicks.
Remember Keyboard Shortcuts
Keyboard shortcuts are very important in any kind of software. They help reduce your work time by half. The best editors in the industry remember all their keyboard shortcuts which help them improve their work and productivity. You will notice a drastic change in your work time when you don't have to use your mouse for every action constantly.
Learn the Video Editor's Lingo
There are certain terms used in video editing that are very important. Knowing these terms will help improve your work. For example, Jump Cut, J, and L Cut, Montage are terms used in the video editing community when editing a video. If you know these terms by heart and what they mean, you will easily understand what the client wants.
Have Good Taste in Music
Music is everything. It can bring weightage to a dialogue-less scene. You must know what type of music goes wherein the video. One of the key aspects of a good video editor is knowing where the right type of music fits. If you nail this, then you have nothing to worry about.
The right type of music isn't the only thing that makes a good video editor. It is also the right level of music. If the music is too loud, then the voices won't be heard, too low, and it would've been useless. Keep the right level of music for the best impact.
Have a Story
Be it a video for your personal use or professional use, always have a story. You are the video editor, and you are the storyteller. Make sure your video has a streamlined story to it, and it is not just a mess of short clips. This will help you in your work and help build credibility as a professional creator.
Work on your Color
Many people do not use color correction and just go with the basic colors in the video. This isn't wrong, but if you want your video to pop and stand out, you should learn about color correction. This enhances the viewing experience of the audience.
How to Edit Faster
Once you have the right system and the right software now, it comes time to edit your videos. How do you do this fast? The best and most used way to edit your videos faster is as follows:
Have all the raw files: Keep all the raw files together. Make sure all your raw files are in one single folder that is easily reachable. These include your videos, images, and even music files.

Organize: Make sure you know which order you wish for your videos and images to play in the finished product. This helps you drag and drop the correct file at the correct time.

Have backup copies: Most video editing software comes with an option to backup your file to the cloud. This should be used as it will allow you to have a backup copy of your work should you accidentally lose it.