Tableau vs AWS QuickSight: 9 Comprehensive Comparison Differences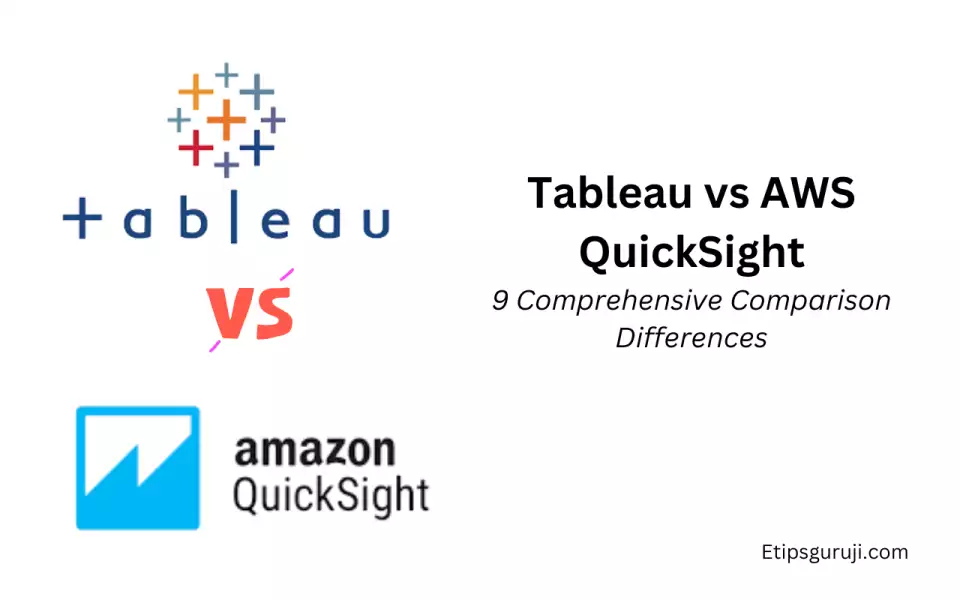 1. Overview of Tableau and AWS QuickSight
What is Tableau?
Ah, Tableau! If you're delving into the world of data visualization, it's a name you've likely come across more than once. Let's strip away the jargon and dive straight into what makes Tableau tick:
Brief history:

Born in 2003 from a project at Stanford, Tableau quickly found its footing in the market.
By 2013, it had gone public, signaling its major role in data visualization.

Key features and offerings:

Drag-and-drop interface: No more coding nightmares. Simply drag, drop, and visualize.
Advanced visualizations: Think heat maps, treemaps, and scatter plots. If it's data, Tableau will make it pretty (and understandable).
Data blending capabilities: Mix and match data from different sources. Like a DJ for data.
Table: Comparison of Tableau Features
| Feature | Brief Description |
| --- | --- |
| Drag-and-drop Interface | Simplifies data visualization tasks. |
| Advanced Visualizations | Multiple options like heat maps, scatter plots, and more. |
| Data Blending | Combine data from varied sources effortlessly. |
What is AWS QuickSight?
Now, onto AWS QuickSight. Think of AWS as that tech-savvy friend who always has a solution. QuickSight is one of its smarter solutions for people drowning in data.
Introduction to AWS services:

AWS, or Amazon Web Services, is the behemoth's cloud platform. It's like a Swiss army knife for businesses.

Key features and offerings:

SPICE (Super-fast, Parallel, In-memory Calculation Engine): Forget waiting for data. SPICE speeds up the analytics process.
serverless architecture: No server management. AWS takes care of the heavy lifting.
Integration with other AWS services: Makes data sourcing from other AWS services like S3 or Redshift a breeze.
Table: A Snapshot of QuickSight's Main Features
| Feature | What Does It Do? |
| --- | --- |
| SPICE | Accelerates the data analytics process. |
| Serverless architecture | Eliminates the need for server management. |
| AWS Service Integration | Streamlines data sourcing from AWS services. |
2. Data Connectivity and Integration
Tableau's Data Sources
When you think Tableau, think variety. Tableau plays well with a myriad of data sources.
Native connectors:

Databases: SQL, Oracle, and even Google BigQuery.
Cloud platforms: Yes, it even connects to AWS, Azure, and Google Cloud.
Web data connectors: Harness data from your favorite web apps.

Integration with third-party tools: Got a favorite tool? There's a good chance Tableau integrates with it, like Salesforce and Excel.
Data preparation capabilities: Tableau ensures your data is prim, proper, and ready for visualization.
Table: Tableau's Data Connectivity Highlights
| Feature | Compatible Sources |
| --- | --- |
| Native Connectors | SQL, Oracle, Google BigQuery, AWS, Azure, Google Cloud |
| Web Data Connectors | Web apps like Twitter, Facebook, and more |
| Third-party Integration | Salesforce, Excel, and more |
QuickSight's Data Sources
If AWS QuickSight were a person, it'd be that friend who always remembers birthdays and seamlessly fits into every group.
Built-in AWS data integration:

S3, Redshift, RDS, Athena: QuickSight natively pulls from these sources, making it a darling for AWS users.

Third-party connectors: Not limited to AWS, QuickSight integrates with on-prem databases, CSVs, and Excel, among others.
Direct querying vs SPICE: You choose. Fetch data in real-time (direct query) or speed it up with SPICE.
Table: QuickSight's Data Sourcing Capabilities
| Feature | Data Sources |
| --- | --- |
| AWS Data Integration | S3, Redshift, RDS, Athena |
| Third-party Connectors | On-prem databases, Excel, CSVs |
| Querying Methods | Direct query or leverage SPICE for faster analytics |
3. Visualization Capabilities
Tableau's Visualization Strengths
Ahoy, visual enthusiasts! 🎨 If a picture speaks a thousand words, Tableau's visualizations are entire novels.
Customizable dashboards:

Personalize to your heart's content.
Adjust colors, sizes, and layouts. You're the artist here!

Geospatial visualizations:

Map your data, quite literally.
Global or regional views, terrain or satellite images. It's like Google Maps, but jazzed up with your data.

Advanced analytics: No, it's not wizardry. But it's close.

Forecasting: Gaze into the future. See trends before they emerge.
Clustering: Birds of a feather data point together.
Trends: Spot the rising stars and the falling comets in your data.
Table: Tableau's Best Visualization Features
| Feature | What's So Cool About It? |
| --- | --- |
| Customizable Dashboards | Paint your data masterpiece. |
| Geospatial Visualization | It's a world tour on a dashboard. |
| Advanced Analytics | The crystal ball of data interpretation. |
QuickSight's Visualization Features
QuickSight, on the other hand, might seem like the younger sibling, but it's got some flashy tricks up its sleeve.
AutoGraph:

Picks the best visualization for you. It's like having a personal stylist, but for data.

Stories feature:

Craft a narrative with your data. Because who doesn't love a good story?
Think of it as a slideshow, but way cooler.

Quick templates and analysis suggestions:

If you're feeling lost, QuickSight's got your back.
Handy recommendations to steer you right.
Table: QuickSight's Noteworthy Visualization Capabilities
| Feature | The Gist |
| --- | --- |
| AutoGraph | The AI-powered viz-picker. |
| Stories Feature | Turn data into compelling tales. |
| Quick Templates & Analysis Suggestions | A helpful nudge when you need it. |
4. Scalability and Performance
Tableau's Approach to Scalability
Alright, let's talk muscle 💪. How does Tableau handle the heavy lifting?
Tableau Server vs Tableau Online:

Server: Install on-premises or on a public cloud. You call the shots.
Online: Tableau's hosting got you covered. Kick back and visualize.

Data engine architecture:

Hyper technology ensures rapid data ingestion and processing.
Handle large datasets without breaking a sweat.

Performance tuning possibilities:

Customize for optimal performance.
Play with configurations till you hit that sweet spot.
Table: Tableau's Scalability Showdown
| Aspect | Deep Dive |
| --- | --- |
| Deployment Options | Tableau Server (self-hosted) or Tableau Online (cloud-hosted). |
| Data Engine Tech | Hyper technology for the win! |
| Performance Tuning | Tweak to perfection. |
QuickSight's Scalability Options
QuickSight is like that nimble gymnast; agile, fast, and makes complex routines look easy.
SPICE's role in performance:

In-memory calculation speeds up data exploration.
Your wait times? Sliced and diced.

Serverless scaling:

Scales automatically with your data. How cool is that?
Say goodbye to manual scaling woes.

Limitations and best practices:

Every hero has a chink in their armor. Know QuickSight's to wield it best.
Stick to best practices for a smooth performance ride.
Table: QuickSight's Scalability Snapshot
| Feature | Quick Insights |
| --- | --- |
| SPICE | Light-speed data exploration. |
| Serverless Scaling | Auto-magic scaling. No manual fuss. |
| Best Practices | The roadmap to a seamless QuickSight journey. |
5. Ease of Use and Learning Curve
How Tableau Fares in User-friendliness
Got your diving gear on? Let's plunge into Tableau's usability waters!
Intuitive UI:

Friendly dashboard.
Colors, icons, and designs that just make sense.

Tutorials and learning materials:

Learning Tableau? It's like having a personal tutor.
Vast range of videos, webinars, and documents.

Complexity for advanced features:

Some features need a bit of a run-up.
But with practice, you'll be a pro in no time.
Table: Diving into Tableau's Usability
| Aspect | How Easy Is It? |
| --- | --- |
| User Interface | Bright, cheerful, and intuitive. |
| Learning Resources | A library that rivals Hogwarts'. |
| Advanced Features | Like mastering a bike; wobbly at first, smooth sailing after. |
QuickSight's User Experience
QuickSight, on the other hand, feels like that modern café. Sleek, minimalist, and everything you need at your fingertips.
Dashboard design:

Clean lines.
Intuitive layouts.

Self-service BI capabilities:

Do it yourself! No need to call IT every time.
Drag, drop, analyze. It's that simple.

Mobile accessibility:

On the move? No problem.
QuickSight loves your smartphone just as much.
Table: QuickSight's Usability Highlights
| Aspect | A Quick Peek |
| --- | --- |
| Dashboard Design | Modern, sleek, functional. |
| Self-Service BI | Be the captain of your data ship. |
| Mobile Access | Analyze on the go. Mobile-friendly to the core. |
6. Cost Analysis
Tableau's Pricing Model
Let's talk 💰. What's the damage when opting for Tableau?
Subscription-based model:

Predictable expenses.
Choose the best plan for your needs.

Different tiers:

Creator: For those who craft the visual tales.
Explorer: For those who delve deep.
Viewer: Sit back, relax, and view.

Additional costs:

Server deployments, maintenance.
Watch out for those extra bits.
Table: Breaking Down Tableau's Cost
| Pricing Tier | For Whom? |
| --- | --- |
| Creator | Data artists crafting visuals. |
| Explorer | Deep-diving analysts. |
| Viewer | Those who enjoy the data show. |
QuickSight's Pricing Strategy
Amazon's always been about customer-centric pricing. Here's how QuickSight fits the bill:
Pay-per-session pricing:

Only pay for what you use. Fair, right?

Annual subscriptions:

Commit and save some cash.

SPICE storage costs:

Remember SPICE? It's fast, but has its price.
Table: QuickSight's Pricing At A Glance
| Aspect | What's The Deal? |
| --- | --- |
| Pay-per-session | Fair and square. Pay for actual usage. |
| Annual Subscription | Commit and cut costs. |
| SPICE Storage | Speed comes with its own price tag. |
7. Community and Support
Tableau's Community Backing
A strong community is like a warm blanket. And Tableau's got one cozy blanket.
Tableau Public:

A platform for sharing and inspiration.
Dive into a sea of public dashboards.

Forums and user groups:

Got a question? Chances are, someone's already answered it.
Engage, learn, and share.

Regular events and conferences:

Tableau Conference: It's like the Super Bowl for data nerds.
Connect, learn, and get inspired.
Table: The Pillars of Tableau's Community
| Component | Why It Rocks |
| --- | --- |
| Tableau Public | A global stage for data enthusiasts. |
| Forums & User Groups | An ever-helpful hive mind. |
| Events & Conferences | Where data lovers unite. |
QuickSight's Support System
Amazon's not new to building communities. Here's QuickSight's support scene:
AWS forums:

A goldmine of information.
Queries, solutions, and discussions.

Documentation and training:

Comprehensive guides.
Step-by-step walkthroughs.

Professional support:

Stuck? AWS pros to the rescue.
Expert solutions, every time.
Table: QuickSight's Support System Unveiled
| Component | Quick Rundown |
| --- | --- |
| AWS Forums | A buzzing beehive of insights. |
| Documentation & Training | Your handbook to mastering QuickSight. |
| Professional Support | A safety net when things go south. |
8. Integration and Flexibility
Tableau's Integration Landscape
Let's weave data threads! Here's how Tableau integrates and flexes its muscles:
Database compatibility:

Connects with a plethora of databases. SQL, Oracle, you name it!
If it exists, Tableau probably integrates with it.

Cloud connectivity:

Azure? AWS? Google Cloud? Yes, yes, and yes.
Your cloud data feels right at home.

APIs and Embedded Analytics:

Embed Tableau visuals anywhere.
APIs for customization? Check!
Table: Tableau's Integration Tapestry
| Feature | Integration Highlights |
| --- | --- |
| Database Compatibility | Nearly universal. The who's who of databases. |
| Cloud Connectivity | Wherever your data floats, Tableau pulls it. |
| APIs & Embedded Analytics | Mold and embed as per your wish. |
QuickSight's Integration Power
QuickSight seamlessly stitches into the vast AWS fabric:
AWS Native Integration:

S3, Athena, Redshift, and more.
If it's AWS, QuickSight's got the keys.

Third-party data sources:

Not just AWS-exclusive.
Integrates with third-party apps and databases too.

APIs for customization:

Want to tweak? Go ahead.
QuickSight's API is your playground.
Table: QuickSight's Integration Magic
| Feature | Integration Insights |
| --- | --- |
| AWS Native Integration | A match made in cloud heaven. |
| Third-party Sources | AWS isn't its only friend. |
| APIs for Customization | Your canvas, your rules. |
9. Final Verdict: Which Should You Choose?
Alright, my data aficionados! Drumroll, please 🥁. It's verdict time:
For Visual Maestros:

Tableau: If your priority is crafting rich, detailed, and breathtaking visuals, Tableau's your pick.

Cloud-Native Fans:

QuickSight: Already neck-deep in AWS services? QuickSight will feel like the missing puzzle piece.

Budget-Conscious Teams:

Tableau: Offers a robust free version, Tableau Public.
QuickSight: Pay-per-session might save you some bucks if usage is sporadic.

Integration Seekers:

Both tools flex well, but your existing tech stack might lean you one way or the other.
Table: The Ultimate Showdown
| Decision Criteria | Tableau | QuickSight |
| --- | --- | --- |
| Visualization Prowess | 🎨 A visual symphony. | 📊 Effective, but might not wow. |
| Cloud Integration | Compatible with major clouds. | Born and bred in AWS. |
| Budget | Free public version. Subscription can get pricey. | Pay-per-session or annual subscription. |
| Integration Strength | Versatile integrator. | AWS integrations shine brightest. |
To Sum Up:
Neither tool is a one-size-fits-all solution. Your organization's specific needs, existing infrastructure, budget, and the importance of visualization depth will dictate your best choice.
Whichever way you swing, you're in for a treat. Both tools have carved their niches and earned their laurels in the BI space. Make an informed choice, and let your data stories soar! 🚀✨
Happy analyzing!
Read More: Top 11 Machine Vision Camera Companies With Future Goals