Casing and Capping Wiring- 4 Basic Type & Installation Guide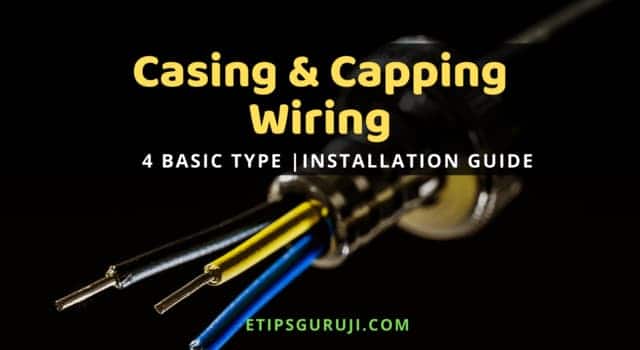 There are a lot of messy things in a house that degrades the beauty. Things like terrible color combinations, disorganized artwork, dated walls, and unconcealed wirings, etc. can degrade the beauty and the value of the house.
If you are searching for casing and capping wiring then check our post. We had listed down various types of casing capping wiring and how to install them.
So, to get rid of all, you might need a home interior designer, but to cover unconcealed wiring you just need to read this post. So, be with us till the end and we let you discover the best casing and capping wiring system for you along with its types. 
What is Casing and Capping Wiring?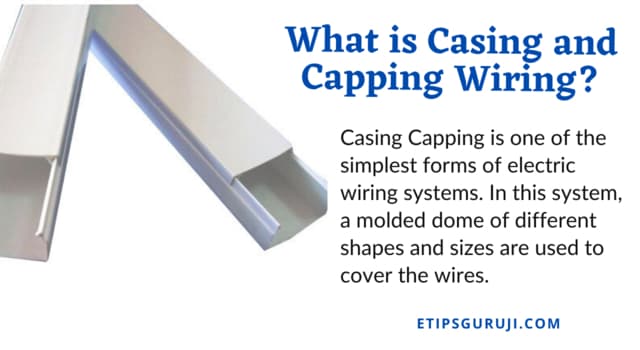 Casing Capping is one of the simplest forms of electric wiring systems. In this system, a molded dome of different shapes and sizes are used to cover the wires.
They are not just the covering wires but they are used as a decorative piece to make the external unconcealed circuit look clean. 
Moreover, the other name of casing capping wiring is 'Cable Trunking'. And in India, these wiring covers are also called 'Casing Patti'
While talking about its installation, they are quick to install and also available in various color and trunk designs. In addition, they generally come for domestic use but its plumbing size can also serve the industrial applications. 
Therefore, it is a must-have thing, if you want to manage messy wiring setups. But you have to choose a specific type of casing and capping trunk based on your needs. So, let's discuss this phase in the next section of types of casing and capping wiring. 
People Also Read:
Casing and Capping Wiring Diagram
The below picture shows the Diagram of Casing and Capping Wiring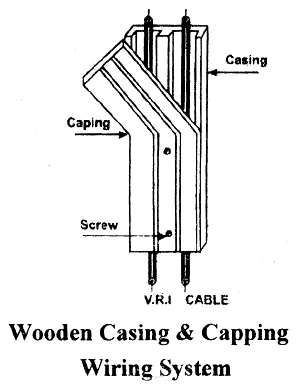 Types of Casing Capping Wiring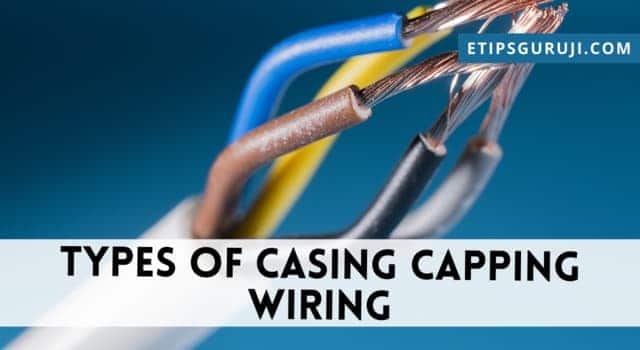 For instance, casing capping wirings are a perfect arrangement for hiding various types of domestic wirings.
So, if you're searching for the different types of casing and capping wiring systems that are available in the market. Then, these are some popular casing capping wiring that you can use in hiding wires.
Types of Casing and Capping System Based on Design
All types of casing and capping systems can be categorized into four broad divisions. These are:
Press and Fit
These are the most common types of casing and capping sets that are available in various colors and trunk sizes. They usually have two distant parts; the one layer that rests on the surface and the other part is the domed cover.
The installation process is simple for these designs, first, the bottom layer is drilled and attached to the walls. After that, the writing is led down. And finally, the upper layer is pressed against the attached layer. 
Moreover, the most common sizes of the press and fit designs are ½ inches and  3 inches.
Sliding and Fit
Many electricians believe that press-fit and sliding fit design are the same. Honestly speaking, in some cases, they are the same. But some manufactures use deeper-lying for their casing and capping wiring system.
In those cases, it is hard to press and fit the casing and capping together. Therefore, sliding-fit is best for these systems. Moreover, materials such as hard PVC, industrial-grade casing capping, and other metallic cases are very hard to press and they are only governed by the sliding functionality.
Trunked Fit
They are not common but quite useful casing and capping systems. They are just the hollow cuboid (or cylindrical) trunk to hide the wiring inside them.
Trunked fit is usually used not as a casing-capping system but as an additional protective layer on high-end underground voltages wires, and high-pressure gas line systems.
And you can easily see in underground projects such as the installation of street lights. 
Grilled Fit
These are very rare but common for managing telephone cables. So, if you're searching for the casing and capping system then you can choose them. 
They are also available in different sizes but usually are available in plumbing size and 1/3 inches.
However, there are different types of casing and capping wiring that are easily available in the market or even you can customize it with your preference. 
Now, we had discussed various types of casing and capping wiring systems. But in most cases one more thing is used, i.e. joint cappings. So, let's take a short look at various types of joint casing and cappings wirings.
Types of Joints Casing Capping Wiring System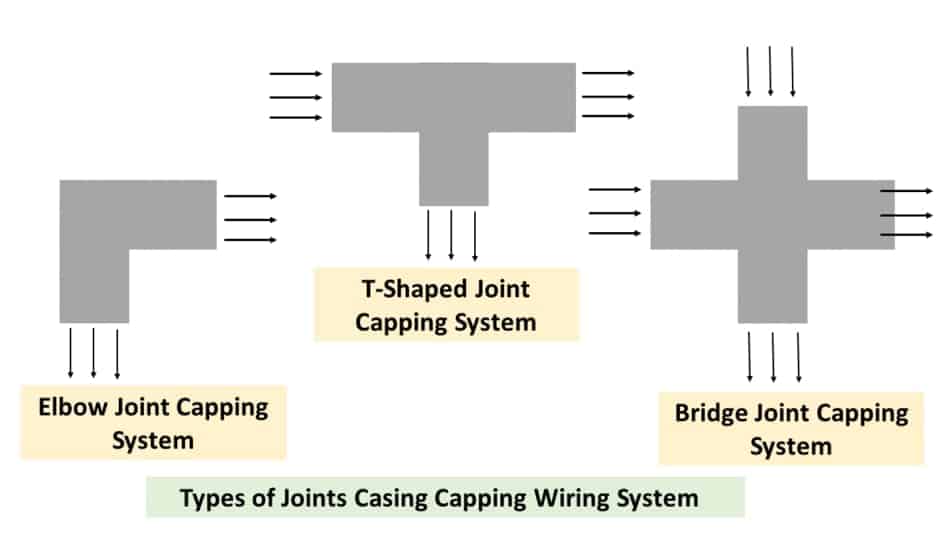 In order to join two-directional casing and capping wiring systems, a joint capping is a must-have thing. These are some of the common joint capping wiring systems. 
Elbow Joint Capping System
When two perpendicular align casing-capping wiring systems are needed to join then this capping joint is used. In short, two systems that make 90° with each other. 
T-Shaped Joint Capping System
Let's consider you have a running 230v wiring cable through your kitchen to another room. And you need an electric switchboard for the kitchen. Then you have to add a wring string that takes current from the 230v running cable. And here, a T-shape joint capping in useful if you want to hide those wires.
Bridge Joint Capping System
If you have two running capping systems in different directions or you want to disperse the primary source into an additional three wiring systems, then, a bridge joint capping system is required.
These are the different casing capping types.
How to Install the Casing and Capping Wiring System?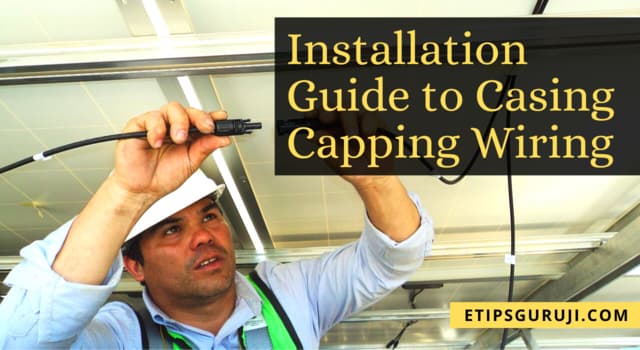 The following is the common procedure for the casing and capping wiring system that uses push-fit, slide-fit, and grilled fit wiring system. 
Measure the Length of  Required Casing 
The slabs of casing and capping wire are generally available in meters such as 3 meters, 5 meters, etc. So, the first thing you should do is to find the roadmap for the installation. For this, you can use a regular measuring tape. 
Attach the Casing Surface Part
We assure you already bought the appropriate casing and capping wiring system. Now, in order to attach the casing and capping wiring system, you first have to mark and drill down the screw hole in the casing as well as on the walls.
After drilling both, you just have to screw tight it with the wall. 
Place the Necessary Wiring
In this phase, you just have to align the wiring. Try to align linear if you have a three-wire system.
Cover the Wiring with Cap
It is time to cover the wiring with the capping system. Try to cover the wiring with less agitation as it may lose the screws. 
Advantages of Casing and Capping Wiring System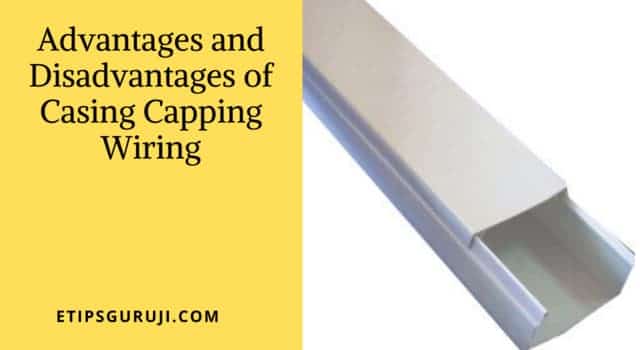 These are the following advantages of using casing and capping wiring system:
Casing capping wiring is durable. 
They are also affordable in pricing as compared to concealed wiring.
Easy and quick to install 
There is a lot of customization and color options available.
They are usually long-lasting and durable.
There are a number of materials such as PVC, hard PVC, other metallic based materials from which you can choose.
Provides additional protection against the shocks. 
Reduce the chance of reaching oil, water, steam, smoke to the capped wires.
In case of damage, repairing is easy and also cost-effective.
Trouble-free rewiring 
They usually have corrosion-free and fire-retardant properties that reduce the corrosion and burning of wiring. 
Disadvantages Casing Capping Wiring
These are the following disadvantages of the casing and capping wiring:
Possibility of internal fire due to heated and overload wires.
If one wire catches fire, other wirings have higher chances of catching the fire too.
They are durable but are insignificant with the acidic, basic, and humidity environment.
External use of these casing and capping wiring systems has a shorter life. And they become fragile and easily break in tropical areas. 
In case, you are using a wood capping wiring system then they might get easily damaged by termites. 
Sometimes, it could be difficult in finding the fault, if they have multiple wiring. 
Precaution While using Casing Capping Wiring System 
The following points you should be considered as a precaution and kept in your mind while using (or going to use) casing and capping wiring:
Regularly check for the wood casing and capping system for termites.
To prevent high humidity. Try to use round cleats to block the openings at the ends.
At the time of installation, use distinctive linear wiring. And also, use separate color wiring for separate wiring lines. 
Don't try to cram too much wiring in the single casing-capping wiring system.
Before placing the cap, ensure that all wirings do not get wear (or chafe) between the casing and capping.
One should avoid placing the casing capping wiring system on the floor. And the ideal height should be at least 1m to the floor.
Also Read:
Other Important Types of Electrical Wiring Casing System
The following are some other important types of electrical wiring and managing system
Concealed Conduit Wiring
Concealed conduit wiring uses solid pipes that run internally through the walls because they are installed before the ball construction is completed. They are generally available in the metal, plastic, hard PVC, and fired clay. 
They are considered as the best electrical wiring and managing system and much popular because it provides no trace of wiring in the room.
This means you can customize your room without any thinking of an external wiring messy system. They are employed along with concrete at the time of constructions. 
Cleat Wiring
It is easy and an old technique to install the wiring system. In this wiring management system, the wires are installed over some ceramic cleats on a plastic or wooden surface without any cover.
Moreover, it is one of the riskiest wiring management systems. As they are very unsafe and look pathetic, they are not currently employed.  
Batten Wiring
It is another old method for wiring management. In this method, a wooden batten is used to lay down the wires linearly with the help of brass clips that are periodically placed after 15 to 20 cm. Like cleat wiring, it is also one of the most dangerous and riskiest wiring management systems.
Wooden Casing and Capping Wiring
These are the casing and capping wiring system that uses a V-shaped wooden casing. They are rear and generally have two grooves for two rest wiring. As they are more prone to get termites, they usually have a wooden varnished layer that has antibacterial properties. So, if you have a woody wall or want to get a woody look, you can use these wooden casing capping wiring to hide the wirings.
PVC Casing and Caping Wiring
Electrical wiring using PVC-insulated wires enclosed in plastic casings and sealed with a cap is known as this approach. Wire distribution, protection of other electrical systems, offices, and low-voltage equipment are all common uses for the casing and capping system.
With this, our post on Casing and capping wiring ends here. Now, the following are some questions that people usually ask on Google.
General FAQs
Can you cap off electrical wires?
Yes, you can. Use can hide any set of wires that are visible or has an open circuit. For this, you can use a casing-capping wiring system. They are available in a vast range of color and material options. So, based on your preferences, you can choose the best suitable wiring system.
What is Batten Wiring?
Batten wiring is an old wiring management system with a wooden batten and brass clipping to manage the wiring. These clips are clipped after 15 to 20 cm intervals and don't let the wire touch each other.
Do cables need a capping system?
There is no rule that all the wires should have a casing and capping wiring system. They are generally done to organize the wire in a simple, clean, and effective way to minimize the external wear-tear of wiring.
What are the types of wiring connections?
There are a lot of wiring connections but some common wiring connections are cleat wiring, wooden casing capping wiring, PVC sheath wiring, metal-sheathed wiring, concealed wiring, and various other surfaces conduit wirings.
How do you conceal a wire?
Concealing means hiding the wire or making it look clean with good and effective conceal wiring methods. Some common ways to conceal a wire are hooking cords with the back of the furniture, tuck down the cord wire, and slip them into a drawer.
Explain Casing and Capping Wiring
Using the name given in this wiring diagram. It is encased in plastic with a lid over the PVC insulated wires. As a result of this, the wire casing and cap gets its name. Electrical wiring refers to the process of delivering electrical energy from suppliers to household appliances such as lamps, fans, and other domestic equipment. It's one of the most basic kinds of electrical wiring. The best precaution is to put porcelain cleat or washed in between the wall and casing if wire has to be in casing capping.