How To Mail A Letter? 2 Basic Ways & Guide to Mail Letter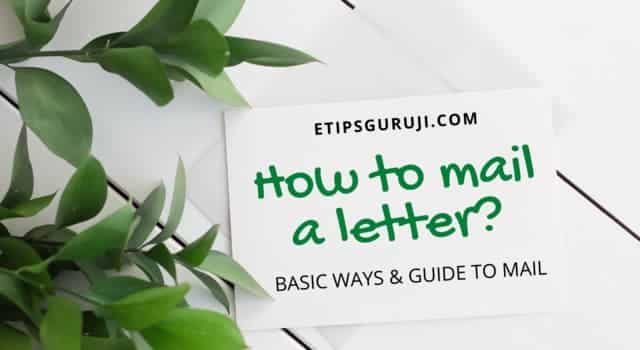 Writing a letter for your loved ones is the cutest thing that you do. And now, if they reach far from your home then you have only one option i.e. mail them physically.
So, with this post, you get all the information related to the topic of "How to mail a letter?" along with how to write address, or what you can send, or what are the prohibited things that you can't mail, etc.
But, before defining the step by step guide on how to mail a letter, let's take a short look on the mail word itself.
What is Mail?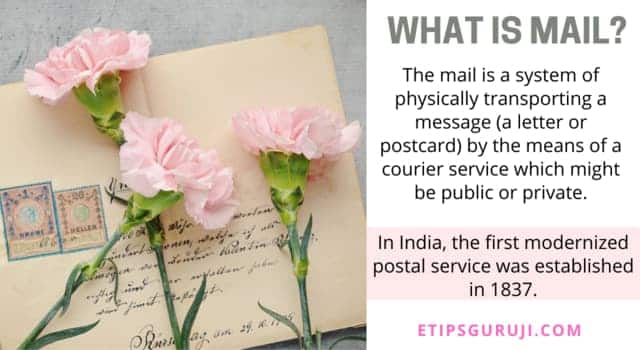 You can call, a mail is a general term that combinedly defines two distant terms i.e. postal or electronic mail.
But, by proper definition, the mail is a system of physically transporting a message (a letter or postcard) by the means of a courier service which might be public or private.
Some common mail forms are letters, envelopes, or packages to another recipient.
Short History of Mail
The earliest known mail was developed by the Mauryans for both public and administrative works. However, in India, there were many post offices established in between 1764 to 1766.
But the modernized postal service was established in 1837 which is also called to be the first true Indian Postal service.
People Also Read:
Types of Mail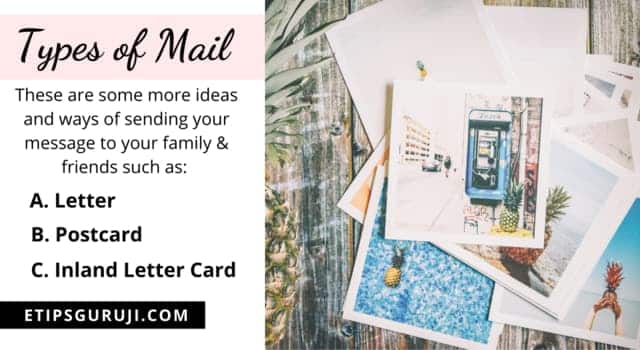 Though we are going to talk about how to mail a letter, but there are some more ideas and ways of sending your message to your family and friends. Let's talk about them one by one.
Letter
Everyone knows what a letter is, it is just a written message by one person for the other. In general, they have enclosed in an envelope and on which the addresses are registered. Moreover, the letters could be formal and informal.
Some key points one should take into consideration while mailing a letter:
Maximum Weight: 100gm (general)
Dimensions: 140mm × 90mm (length and breadth).
Paper thickness: 

Minimum 0.08mm 
Maximum 0.18mm 
Postcards
If you don't want to send an enclosed letter than a postal card with some greeting on a photo card would be a great idea. They resemble a thick rectangular paper sheet that could not bigger than the adult palm length and its dimension is 14 cm × 9 cm (length and breadth).
In short, it doesn't pose any secret message, as they are the means of open communication and anyone can read it in their passage of travel.
Inland Letter Card
You can say an inland letter card is the combination of the postcard theme with no-other-one read tag. Sounds different? Yes, they are. An inland letter has two faces: with the one, you can write your message and the other face has an addressed bar on which you have to write the receiver's address.
The address face gets fold to cover the written side and form as the enclosure. So, it has a single paper (like a postcard) but also has an envelope (like a letter).
​​​Maximum Weight: 5 grams
Dimensions for unfolded:

Maximum: 30 cm x 21 cm
Minimum: 28.2 cm x 18.2 cm

Dimensions for folded:

Maximum: 21 cm x 10 cm
Minimum: 15.2 cm x 9 cm
From know, you get all the basic, and you might have thought to change your letter to a postcard (so everyone can see that). But in all, its time to states you how to mail a letter?
General Procedure on How To Mail A Letter?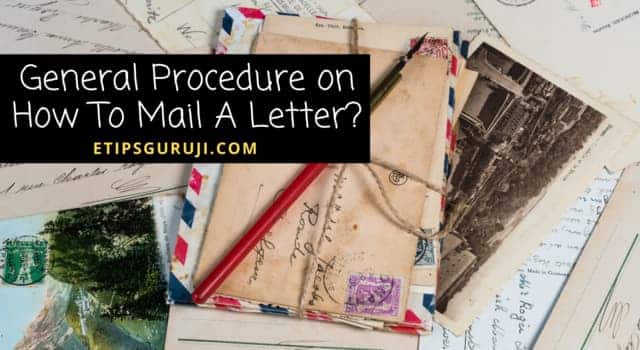 To start yourself with the unleashed pressure of writing a letter, these are the following things that you should do in the following order.
Step 1: Write your Message on the Letter
If you are writing informally, you choose a variety of colorful papers on which you can put your heart and show your faith, love, and concerns about the receiver.
However, if you are writing a formal letter, then it should be written on the legal sheet size or a regular A4 paper. Moreover, these formal letters should not be handwritten. But there is no rule that all formal letter should be printed.
We assume you already written your message on the paper, now, its time to go ahead to the next step on how to mail a letter i.e. proper addressing the envelope.
Step 2: Write the Proper Address on Envelope
These are the following pointers that help you to write the address on an envelope properly.
Write the name and address on the top left of the envelope (sender's address).
Then, write the recipient's name and address slightly center on the bottom half of the envelope. 
Finally, place the stamp at the top right of the envelope. 
By doing so, you definitely avoid delays or returned the letter to you.
For instance, sending a letter, it is necessary to write the proper address so that it gets delivered to the right destination. But now the question arises, how you can write the address in a proper format? This is how you can do this.
For Informal Letters
Full name of the person (sender or recipient). 
Street address on the next line
City, state, and ZIP code
For Business Letters
"ATTN:" or "c/o" followed by the name of the recipient.
In the next line write business or organization name.
After that write the street address. 
Write the city, state, and postal code in the next line.
For Military Address (APO, FPO, DPO) letters
Military Addresses literally have the same format as the regular address but they don't use the city and state names. This is how they are addressed.
 Service member's full name (with or without grade, rank, etc.), or a specific title (e.g., Commanding Officer, Supply Officer, etc.).
 Unit designation (" UNIT", "CMR", or "PSC") and number, and box number assigned.
APO (Air/Army Post Office) or FPO (Fleet Post Office) or DPO (Diplomatic Post Office) "city" designation.
Finally, the appropriate two-letter AA (Armed Forces America), AE(Armed Forces Europe), or AP(Armed Forces Pacific) for the "state" abbreviation followed by the ZIP Code or ZIP+4 Code. 
Step 3: Buying and Paying for Postage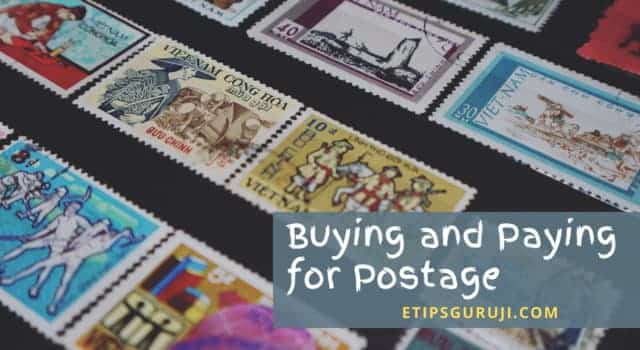 After filling the addresses and putting your letter in the envelope, its time to calculate the weight and estimate the postage value.
There is more than one thing that might get encountered when calculating a postage price. These are listed as:
Destination (National/inter-state/foreign)
Speed of post
Shape, Weight, and Size of post
Special handling and insurance
Delivery confirmation receipts
Where to buy postage stamps/ inland envelopes? These are some of the common ways by which you can acquire them.
Official Postal Store
Click-N-Ship
Near Post Office
Step 4: Send Your Mail
After doing all of the above-mentioned work, its time to dispatch that mail. You have two ways on how you can post them. These are:
Take it to your near Post Office lobby and drop.
Drop it into your near mailbox.
With this, all the necessary information related to how to mail a letter ends. But there are two more distinct things you should consider that might make you mail not to reach its destination. These are mailing letters abroad and mailing within the country.
How To Mail A Letter Within The Country?
If you already go through the above procedure, then this would be just like a quick summary for you. So, these are some of the quick pointers that you have to follow:
Write the correct "To" address on the envelope along with mandatory PIN code. This is the address of the person you are sending the letter to.
Write the correct "From" address. This is your address that you have to fill.
Put all your letters in it and seal it with adhesive or tape. Do not staple as they might get stuck with other letters and might leads to improper losses.
Make sure the weight is less than 20g.
If you are sending them in India, affix an Rs. 5 postal stamp on the envelope (available at all Post Offices).
Drop the letter in a Mailbox (usually, it is a red-colored cylindrical box with a black hood).
How To Mail A Letter Internationally?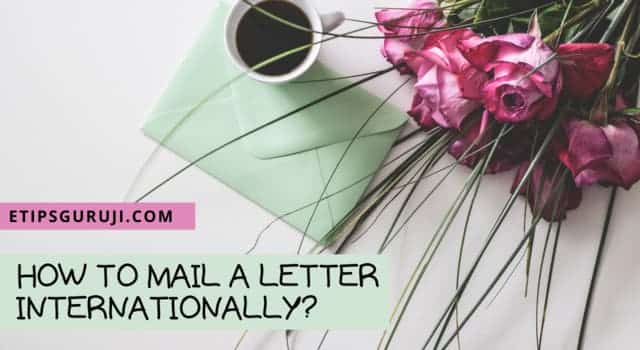 In total there are many ways by which you can mail a letter internationally. The following is the easiest and common way of mailing a letter out of the country:
Step 1: Visit your near local post office
Collect all the necessary information from the officers, and ensure that you have bought a right postage stamp for the country to whom you are sending the letter.
You can also ask the post officers about the customs, rules, and regulations for the country and tips on how to meet these regulations to avoid delay.
Step 2: Preparing the Letter for Shipment
1. Purchase stamps: After getting all the information from the post office, its time to invest some money in purchasing the required country postal stamps. Additionally, the price may vary based on the destination country.
2. Address your mail: As you are sending a letter internationally which goes through numerous wear and tear. That's why it is necessary to use a permanent marker or a pen to address your mail.
Step 3: Weigh And Size Of Your Letter
Before posting your letter do not forget to weigh your letter because it is another cost governing factor. For an intentional letter, these are the following conditions with respect to the size and weight of your letter that should follow:
Min. height: 3.5 inches
Max. height: 6.125 inches
Min. length: 5 inches
Max. length: 11.5 inches
Min. thickness: .0007 inch
Max. thickness: .25 inch
Max. weight: 99.22 gram
Step 4: Choose a Mailing Service
It depends on you, to choose a mailing service. So, if you want your letter to reach its destination quickly, in that case, you have to shred more money. And if you are looking for the cheapest option then you have to deal with slow transportation.
Step 5: Fill Out the Customs Form
You can complete customs forms either online or at the post office. If you are using postal services such as First-Class International Mail or Priority Mail International Flat Rate envelope in the U.S then you do not need a customs form.
Step 6: Purchase Insurance
It depends on your needs whether you want to purchase additional insurance or not.
Step 7: Sending the Letter
Now, its time to send the letter to the required postal service. And make sure you keep all the receipts as proof of delivery.
Also Read:
What Cannot Be Sent in the Mail?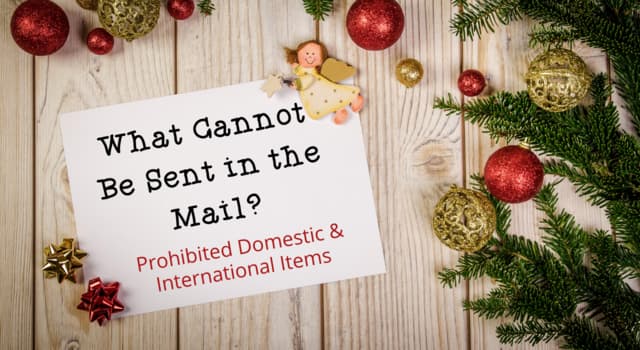 These are the following items you cannot be sent in the mail. And if you do it then it might lead you behind the bars.
Prohibited Domestic Items
Airbags
Explosives
Ammunition
Gasoline
Marijuana
Prohibited International Items
Aerosols, Nail polish, perfumes, and gasoline
Fresh fruits and vegetables
Air Bags
Alcoholic Beverages
Ammunition
Cigarettes
Dry Ice
Explosives
Lithium Batteries
Marijuana– Both recreational and medicinal are prohibited.
Poison
Here our topic, How to mail a letter? ends. Now, we discuss some frequently asked questions that many users search on Google.
General FAQ
Do you need a stamp to mail a letter?
Ans. Yes, you need a stamp to mail a letter. 
How many stamps do I need to mail my letter? 
Ans. Stamps you need to mail your letter depends on its destination, its size, weight, and the delivery method.
What is the fastest way to send letters in India?
Ans. Speed post is concerned as the fastest way to send letters in India. And their price depends upon the distance and weight of the letter.
When addressing an envelope whose name goes first?
Ans. The sender's address goes first on the top left corner of the envelope. After that, the recipient's address is written at the center on the bottom half of the envelope.