Uninstall Avast: 5 Ways to Uninstall Avast like a Pro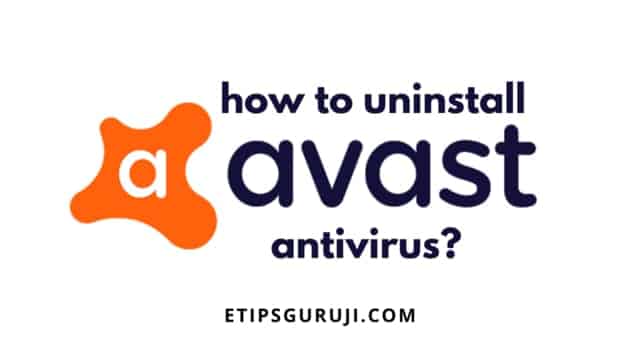 If you have already installed Avast antivirus and want to remove it completely from your system, then this guide is for you. In this guide, we are going to discuss, all the common ways to uninstall Avast antivirus.
5 Ways to Uninstall Avast Antivirus
Here, we show you some of the ways by which we can easily uninstall any version of avast antivirus.
How to Uninstall Avast Antivirus in Windows 10 using Standard Way?
Here, we show you step by step guide by which you can easily uninstall Avast antivirus in Windows 10:
Step 1: First of all, you have to open the Avast antivirus program on your PC or laptop by right-clicking on the Avast icon. Hover the mouse over the option name Avast Shield controls and select "Disable permanently". It is important to disable the avast antivirus program before uninstalling.
Step 2: In the new pop-up window, a new message will appear with a warning prompt and ask if you want to proceed, click "Yes". After this, the antivirus program is stopped and shows a red cross sign on its icon.
Step 3: Now you have to go to Windows Settings using the keyboard shortcut "Win + I" and select the "Apps category". In the listed category you have to select the Avast antivirus. After this, click on the Uninstall button.
Step 4: A message will appear about uninstalling Avast Antivirus. To confirm this, you have to click "Yes". But there might be a chance that the tool asks some survey questions during the uninstallation process.
Step 5: After completing all the above steps, a message finally appears on the screen saying "Product was uninstalled successfully" and asks you to restart your computer. So, click on it.
Now you are completely done with uninstalling Avast.
People Also Read:
How to Uninstall Avast antivirus in Windows 10 using Control Panel?
If you don't want to go through the above listed procedure, you can use the following procedure to uninstall it.
Step 1: First, press the "Win + R" button simultaneously and search for "Control Panel" on it. This will open a new popup window. After that select the item in a small view and choose "Programs and Features".
Step 2: Select Avast Antivirus in a new popup window and click on the uninstall button. It shows a warning message that an attempt has been made to uninstall Avast. Confirm this, and it will start the uninstallation process.
Step 3: Usually the uninstallation process takes a few minutes to complete. After completion of uninstallation, it shows a message that "product has been Uninstalled successfully". Now you have to reboot your system.
How to Uninstall Avast antivirus in Windows 7 and XP?
Before uninstalling avast antivirus program, you need to make sure that no other application is running on your PC. These are the following steps to uninstall Avast Antivirus in Windows 7 and XP.
Click "Start Button" and choose "Control Panel". 
Click on "Uninstall a program", if you are using category view. After that, right-click on the Avast Antivirus program and then select Uninstall.
If asked for permissions through the User Account Control dialog, click Yes.
When the Avast Setup wizard appears, click on the "Uninstall" button.
Now you have to click "Yes" to remove the antivirus program.
When the confirmation message appears, please restart your computer or laptop.
How to Uninstall Avast antivirus in Mac?
To uninstall Avast Security from your Mac make sure the avast security window is inactive.
Click on the Avast security icon from the menu bar present on the top left corner of the screen.
Select open avast option
Now Click on avast security
Select uninstall avast security
Click uninstall
Select additional security products to uninstall the hour's security and then click on continue.
Sometimes, it asks for the permission of the administrator so enter your user id and password and then click ok.
Now you have to wait for a few seconds to complete the uninstallation process and then click on quit.
Avast Security is now uninstalled from your Mac.
How to Completely uninstall Avast Antivirus using Avast Uninstall Utility?
Step 1: You have to visit the official website of Avast and download the Avast Uninstall Utility with the name of avastclear.exe and open it as the "Run as administrator".
Step 2: Now you must have to ensure that the Start Windows should be in an active mode. Then run the utility and after that, click Uninstall.
Step 3: Wait for some minutes for the completion of the uninstallation process. 
Step 4: At last, you have to restart your computer.
Note: Avast Uninstall Utility is used when you have an older version of Avast antivirus and you are installing a new one. They are also used by the people to grab additional free 30 days trial from Avast.
People Also Read:
General FAQ
Does Avast slow down the computer?
Ans. Yes, not only Avast but all antivirus slows down PC. The slow performance is due to continuous and background scanning that uses some amount of computer resource i.e. RAM and processing ability of the processor. Although Avast offers high detection rates and good protection against malware, it degrades system performance to some extent.
What makes Avast Antivirus better than the others?
Ans. Some of its distinctive features that make Avast Antivirus better than others are it has a free version that is ample for the normal user, it takes low computer resources. Moreover, it is available for most common platforms such as Windows, macOS, and Android. And most importantly, it includes multiple layers of defense in one package such as firewalls, Internet filter, DNS redirection, and ransomware protection.
Is Avast cleanup safe?
Ans. Yes, Avast cleanup is safe. These Avast Cleanup are specially designed to remove outdated entries that are safe to remove which increases the computer software speed and that makes things speed up.
Which is better Norton or Avast?
Ans. Norton is best or better than Avast because it offers more security-related features and better anti-malware security. In addition, it also provides some extra utilities in its security suites than Avast antivirus.  
Is Windows Defender better than Avast?
Ans. No, Window Defender is not better than Avast. According to the test conducted by AV-Comparatives, the Avast antivirus detects 100% malware as compared to Windows Defender. In addition, Avast antivirus has less impact on computer performance than Windows Defender.