Digital Subscriber Line (DSL): Types, Architecture, Security and Future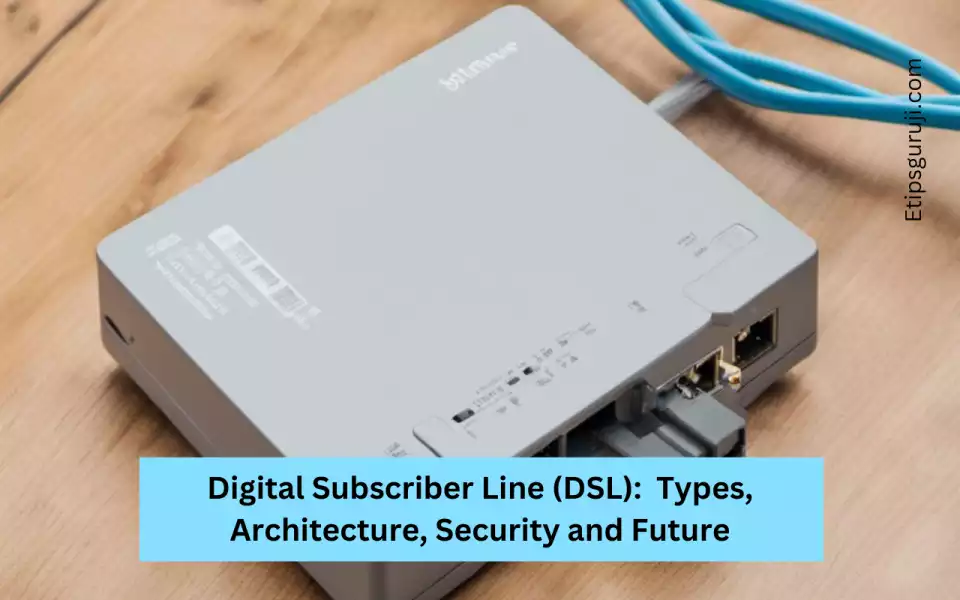 Overview of DSL Technology
Digital Subscriber Line (DSL) is a family of technologies that provide internet access by transmitting digital data over the wires of a local telephone network.
How it Works: Unlike traditional dial-up services, it allows for the simultaneous transmission of voice and data. It achieves this by utilizing different frequency bands for each type of transmission.
Table 1: Frequency Bands in DSL
| Frequency Band | Usage |
| --- | --- |
| Low | Voice |
| Middle | Upstream |
| High | Downstream |
How Digital Subscriber Line compares to other broadband technologies
DSL vs. Cable: DSL is generally slower but offers a dedicated line, ensuring consistent speeds. Cable, although faster, shares bandwidth among users in a locality.
DSL vs. Fiber: Fiber offers much higher speeds but is more expensive to install and less widely available.
DSL vs. Satellite: Satellite can be used in more remote areas but suffers from higher latency.
Historical Context
Evolution from Dial-up
Before DSL: The internet was primarily accessed via dial-up connections, which monopolized the phone line and offered very low speeds.
Introduction of DSL: DSL was revolutionary as it provided a dedicated digital line, allowing for higher speeds and simultaneous voice and data transmission.
Key Milestones in Digital Subscriber Line Development
1990s: Introduction of the first DSL technologies.
Early 2000s: Widespread adoption and improvements in speed with ADSL2 and ADSL2+.
2010s: Introduction of VDSL and VDSL2, offering speeds comparable to low-end fiber connections.
Influence on the Broadband Market
Digital Subscriber Line Architecture
Physical Layer Components
DSL Modem
Role and Functionality

The DSL modem serves as the interface between the user's local network and the DSL service provider.
It modulates and demodulates digital signals to allow data transmission over copper telephone lines.

Types: Bridge, Router

Bridge Modem: Acts as a simple bridge between the DSL connection and a separate router.
Router Modem: Combines the functionality of a DSL modem and a router, often providing built-in firewall and DHCP services.
Table 2: Comparison of Bridge and Router Modems
| Feature | Bridge Modem | Router Modem |
| --- | --- | --- |
| Firewall | No | Yes |
| DHCP | No | Yes |
| Ease of Setup | Moderate | Easier |
| Flexibility | High | Moderate |
DSLAM (DSL Access Multiplexer)
Purpose and Operation

The DSLAM aggregates individual DSL connections from multiple users and routes them to a single, high-capacity data link.
Located at the service provider's central office or a remote terminal.

Placement in the Network Architecture

Typically placed between the DSL modems and the ISP's data network.
Acts as a traffic manager, directing data packets as needed.
Copper Telephone Lines
Physical Properties Affecting DSL

Quality of copper, distance from the central office, and line noise can all impact DSL performance.

Limitations and Advantages

Limitations: Susceptible to interference and signal degradation over long distances.
Advantages: Widespread availability and lower installation costs compared to fiber.
Data Link Layer and Network Layer
ATM and Ethernet over DSL
ATM (Asynchronous Transfer Mode)

Older but reliable protocol, often used in long-haul networks.

Ethernet over DSL

More modern and efficient, commonly used in residential and small business settings.
PPPoE and PPPoA Protocols
PPPoE (Point-to-Point Protocol over Ethernet)

Requires a username and password for authentication.
Commonly used with router modems.

PPPoA (Point-to-Point Protocol over ATM)

Also requires authentication but is less common today.
Typically used in enterprise settings.
IP DSL Switching
What it is: A method of directing data packets based on IP addresses rather than ATM virtual circuits.
Advantages: Greater efficiency and easier management of network resources.
Types of Digital Subscriber Line (DSL) Services
Asymmetric DSL (ADSL)
Typical Use-Cases
Home Usage: Ideal for typical consumers who download more data than they upload, such as streaming videos or browsing the web.
Small Businesses: Suitable for operations that don't require heavy upstream data flow.
Speed Ranges
Download: Ranges from 1.5 Mbps to 20 Mbps.
Upload: Typically between 128 kbps and 1 Mbps.
Table 3: ADSL Speed Ranges
| Direction | Minimum Speed | Maximum Speed |
| --- | --- | --- |
| Download | 1.5 Mbps | 20 Mbps |
| Upload | 128 kbps | 1 Mbps |
ADSL2 and ADSL2+ Enhancements
ADSL2: Offers improved speed and better noise margin. Speeds up to 24 Mbps downstream.
ADSL2+: Doubles the downstream bandwidth, allowing for speeds up to 48 Mbps.
Symmetric DSL (SDSL)
Business Applications
VPN Access: Ideal for businesses that need secure and fast remote access.
Video Conferencing: Requires high upstream and downstream speeds, making SDSL a suitable choice.
Speed and Reliability
Speed: Ranges from 128 kbps to 5 Mbps for both upstream and downstream.
Reliability: Offers a more stable connection compared to ADSL, crucial for business operations.
Table 4: SDSL Speed and Reliability
| Feature | Speed Range | Reliability |
| --- | --- | --- |
| Speed | 128 kbps – 5 Mbps | High |
Comparison with ADSL
Speed: SDSL offers symmetrical speeds, whereas ADSL is faster for downloads.
Cost: SDSL is generally more expensive due to its business-oriented features.
Very-High-Bit-Rate DSL (VDSL)
Speed Capabilities
Download: Can reach up to 100 Mbps.
Upload: Up to 40 Mbps.
Table 5: VDSL Speed Capabilities
| Direction | Speed |
| --- | --- |
| Download | Up to 100 Mbps |
| Upload | Up to 40 Mbps |
Applications like IPTV and VoD
IPTV (Internet Protocol Television): Requires high downstream speeds, making VDSL a suitable choice.
VoD (Video on Demand): Also benefits from the high downstream speeds offered by VDSL.
VDSL2 Standard
What it is: An enhancement of VDSL, offering speeds up to 200 Mbps downstream and 100 Mbps upstream.
Advantages: Allows for triple-play services (data, voice, and video) over a single connection.
DSL Configuration and Optimization
Modem Configuration
Accessing the Modem Interface
IP Address: Typically accessed via a web browser by entering the modem's IP address, often 192.168.1.1 or 192.168.0.1.
Credentials: Default username and password are usually admin/admin, although it's strongly recommended to change these for security reasons.
Basic Settings: VPI/VCI, Encapsulation
VPI/VCI (Virtual Path Identifier/Virtual Channel Identifier)

These settings are provided by the ISP and are crucial for establishing the Digital Subscriber Line connection.

Encapsulation

Options usually include PPPoE, PPPoA, or IPoA. The correct setting is also provided by the ISP.
Table 6: Basic Modem Settings
| Setting | Description | Example Values |
| --- | --- | --- |
| VPI/VCI | Virtual Path and Channel Identifiers | 0/35, 8/35 |
| Encapsulation | Data Link Layer Protocol | PPPoE, PPPoA |
Advanced Settings: QoS, Firewall
QoS (Quality of Service)

Allows for prioritization of certain types of traffic, such as VoIP or gaming.

Firewall

Built-in firewall settings can be configured for additional security measures.
Line Optimization
SNR and Line Attenuation
SNR (Signal-to-Noise Ratio)

A higher SNR value generally indicates a healthier line. Values above 20 dB are considered good.

Line Attenuation

Lower values are better, indicating less signal loss. Values below 20 dB are ideal.
Table 7: Line Health Indicators
| Indicator | Ideal Values | Description |
| --- | --- | --- |
| SNR | Above 20 dB | Signal-to-Noise Ratio |
| Line Attenuation | Below 20 dB | Signal Loss |
DMT Modulation and Bit-Swapping
DMT (Discrete Multi-Tone) Modulation

The standard form of modulation for Digital Subscriber Line , dividing the signal into multiple frequency channels.

Bit-Swapping

A technique for optimizing line performance by reallocating bits among the various DMT channels.
Tools for Line Testing and Optimization
DSL Line Testers

Hardware tools that can measure line performance metrics.

Software Solutions

Various software tools exist for monitoring and optimizing DSL lines, such as DSLReports.
Security Concerns and Best Practices
Inherent Vulnerabilities
Packet Sniffing Risks
What it is: The act of capturing data packets as they travel over a network.
DSL Risk: Digital Subscriber lines are generally more secure than public Wi-Fi but are still susceptible to packet sniffing if not properly secured.
Firmware Vulnerabilities
Outdated Firmware: Older firmware versions may have known security flaws that can be exploited.
ISP Updates: Some ISPs control firmware updates, which can delay the application of crucial security patches.
Man-in-the-Middle Attacks
Definition: An attacker secretly intercepts and possibly alters the communication between two parties.
DSL Risk: While less common than on public networks, these attacks can still occur on DSL lines if security measures are not in place.
Table 8: Common DSL Vulnerabilities
| Vulnerability | Risk Level | Mitigation Strategies |
| --- | --- | --- |
| Packet Sniffing | Moderate | Encryption, VPN |
| Firmware Issues | High | Regular Updates |
| Man-in-the-Middle | Low | Strong Encryption, VPN |
Security Measures
Firewall Settings
Built-in Firewall: Most Digital Subscriber Line modems come with a built-in firewall that should be configured for maximum security.
Additional Hardware: A separate hardware firewall can provide an extra layer of protection.
VPN Usage
What it is: Virtual Private Network, a technology that encrypts your internet connection.
Why Use it: Provides an extra layer of security and privacy, especially important for business or sensitive personal use.
Regular Firmware Updates
Check for Updates: Regularly log into the modem interface to check for firmware updates.
Manual Updates: If the ISP doesn't push updates automatically, manual updates may be necessary.
Table 9: Recommended Security Measures
| Measure | Effectiveness | Ease of Implementation |
| --- | --- | --- |
| Firewall | High | Moderate |
| VPN | Very High | Moderate to High |
| Firmware Updates | Moderate | Low to Moderate |
Digital Subscriber Line (DSL) in Mobile Networks
DSL in Android
Tethering DSL Connections
What it is: The process of sharing a Digital Subscriber Line internet connection from an Android device to other devices.
How to Do it: Via USB tethering, Wi-Fi hotspot, or Bluetooth tethering.
Android Apps for DSL Line Monitoring
DSLStats: Provides real-time line statistics, including SNR and line attenuation.
Network Analyzer: Offers a range of network diagnostic tools, including speed tests and port scanning.
Table 10: Popular Android Apps for Digital Subscriber Line Monitoring
| App Name | Features | User Rating |
| --- | --- | --- |
| DSLStats | Line statistics, SNR monitoring | 4.5 |
| Network Analyzer | Speed tests, port scanning | 4.7 |
VPN Configurations for Android
Built-in VPN: Android has built-in VPN settings that can be configured for extra security.
Third-Party Apps: Apps like NordVPN and ExpressVPN offer easy-to-use interfaces and additional features.
DSL in iOS
Personal Hotspot Feature
What it is: Similar to tethering on Android, allows sharing of a Digital Subscriber Line connection via Wi-Fi, Bluetooth, or USB.
Settings: Accessible via the "Settings" app under "Personal Hotspot."
iOS Apps for Digital Subscriber Line Diagnostics
Table 11: Popular iOS Apps for DSL Monitoring
| App Name | Features | User Rating |
| --- | --- | --- |
| Speedtest | Speed tests, network diagnostics | 4.8 |
| Fing | Device identification, network scan | 4.9 |
Security Considerations for iOS Users
VPN: iOS also supports both built-in and third-party VPN services for enhanced security.
Firewall Apps: While iOS is generally secure, additional firewall apps can provide extra layers of protection.
Future of Digital Subscriber Line
Technological Advancements
G.fast and XG-FAST
G.fast: A Digital Subscriber Lineprotocol that aims to provide up to 1 Gbps over copper telephone lines for short distances.
XG-FAST: An extension of G.fast, aiming for even higher speeds and efficiencies.
Role of AI in Digital Subscriber Line Optimization
Predictive Maintenance: AI algorithms can predict line failures and optimize performance proactively.
Dynamic Optimization: AI can dynamically adjust settings like SNR and line attenuation for optimal performance.
Table 12: Emerging Technologies in Digital Subscriber Line
| Technology | Potential Speeds | Applications |
| --- | --- | --- |
| G.fast | Up to 1 Gbps | Short-distance |
| XG-FAST | Beyond 1 Gbps | Experimental |
| AI Optimization | Variable | Maintenance, Tuning |
Market Trends
DSL vs. Fiber vs. 5G
DSL: Still relevant due to its widespread infrastructure and lower cost.
Fiber: Offers higher speeds but comes with higher installation costs.
5G: Emerging as a strong competitor, especially in areas where wired connections are hard to establish.
Geographical Variations in DSL Adoption
Urban Areas: Seeing a decline in DSL usage in favor of fiber and 5G.
Rural Areas: DSL remains popular due to the high cost of deploying new technologies.
Regulatory Impacts
Net Neutrality: Regulatory decisions on net neutrality can impact DSL service offerings.
Universal Service: Government initiatives to provide broadband access can influence DSL's market share.
Table 13: Market Trends and Influencers
| Factor | Impact on DSL | Notes |
| --- | --- | --- |
| Fiber Adoption | Negative | Higher speeds |
| 5G Rollout | Negative | Wireless alternative |
| Regulatory Decisions | Variable | Can be positive or negative |
Case Studies and Real-world Applications
A. DSL in Remote Education
Case Study: Rural School Connectivity
Background: A rural school district with limited access to high-speed internet.
Solution: Implementation of Digital Subscriber Line technology to provide stable, high-speed internet for remote learning.
Outcome: Improved educational outcomes and increased student engagement.
Challenges and Solutions
Challenge: Limited infrastructure and high cost of fiber deployment.
Solution: Utilization of existing telephone lines for DSL, reducing costs and deployment time.
B. DSL in Healthcare
Telemedicine Applications
What it is: The use of telecommunications technology to provide healthcare remotely.
DSL's Role: Provides the necessary bandwidth and stability for video consultations and data transfer.
Data Security Concerns
HIPAA Compliance: Ensuring the secure transmission of patient data over DSL lines.
Solutions: Use of VPNs and secure data encryption methods.
C. DSL in IoT
Smart Home Applications
What it is: Internet of Things (IoT) devices like smart thermostats, lights, and locks connected to the internet.
DSL's Role: Provides a stable and sufficient bandwidth for running multiple IoT devices.
Bandwidth and Latency Considerations
Bandwidth: While individual IoT devices use minimal data, the cumulative effect can be significant.
Latency: Real-time control of devices requires low-latency connections, which DSL can generally provide.