HMU: 8 Different Meanings & How to Use it Perfectly?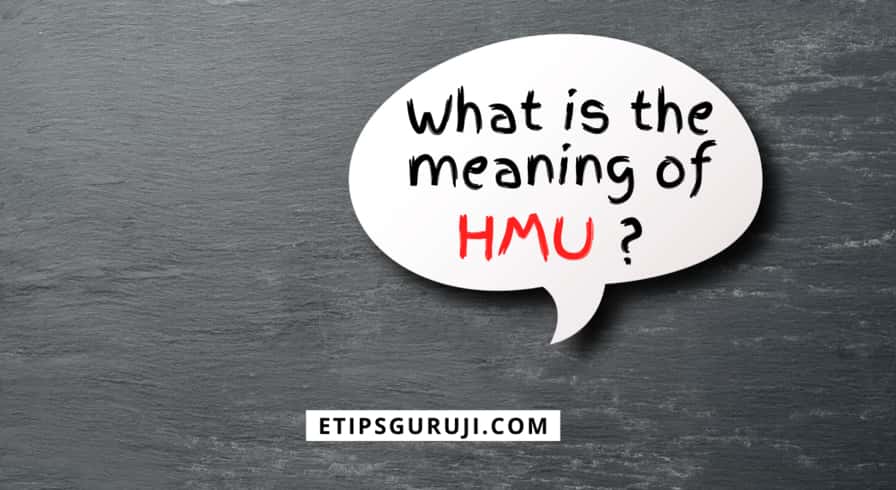 Have you ever got a text with a slang word, "hmu"? If Yes!!! then you probably don't know that there is more than one meaning of this word.
But if you're from those people who got the "hmu" message for the first time, then your first instinct might lead you to think that it was misspelled by the writer as "hmm".
But my friend, they didn't. In fact, they use a slang word, which has numerous meanings.
So, in this post, we are going to discuss all the different meanings of HMU, its short history, how you can use these words in your conversations, and lastly some general FAQs.
What is HMU? (HMU Meaning text)
For general-purpose, HMU is abbreviated as "Hit Me Up". Don't go for the word Hit me up meaning—they didn't mean to hit you with some kind of stones or weaponry. It is just a way of saying "to reach you".
So, you can say that it means "contact me", "text me", or "call me". This term, is now, a popular internet abbreviation that is commonly used on social media conversation either in chatting or in an informal mailing.
However, if you ask me, what's the original contextual meaning of "hit me up"? I would say, "asking for something". These some examples that enrich the initial knowledge of using Hit me up phrase in your conversation.
I am bored, hmu.
hmu, when you want to play Ludo King
He hmu for a date
Want to know more examples of using Hit me up phrase? If yes, then be patience, I let you there. But before going to that, let's have a short and quick history of slang word Hit me up meaning.
People Also Read:
History of Hit-Me-Up Phrase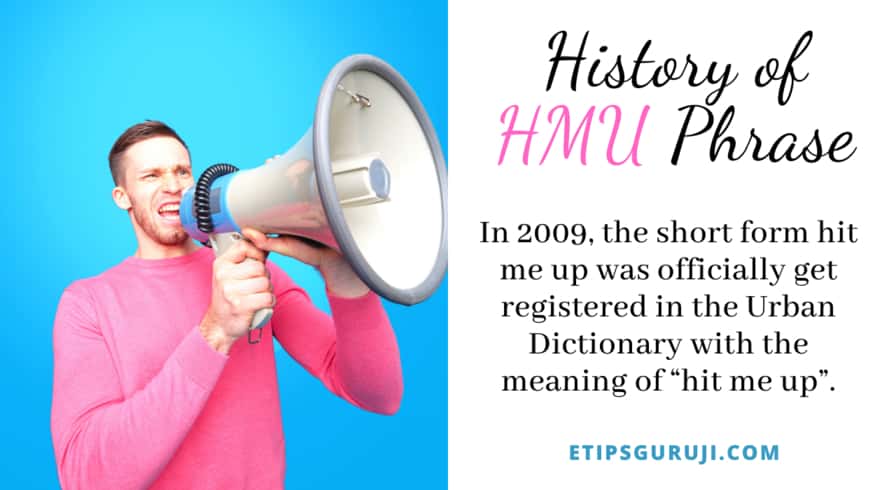 The phrase "hit me up" was originally meant to ask or request something. When internet abbreviations began to gain popularity in the early 2000s, the phrase "hit me up" referred specifically to social requests. But this phrase is too long for the impatient digital world which results in the shorter form "hmu".
And later in 2009, the short form hit me up was officially get registered in the Urban Dictionary with the meaning of "hit me up".
Quick Facts about its Development:
According to Facebook's 2010 Memology report, hit me up phrase went from being a rarity to the biggest trend of the year. 
According to Google Trends, searches for hit me up phrase peaked in 2010 and leveled out after about a year. 
Different Situation Where You Can Use HMU?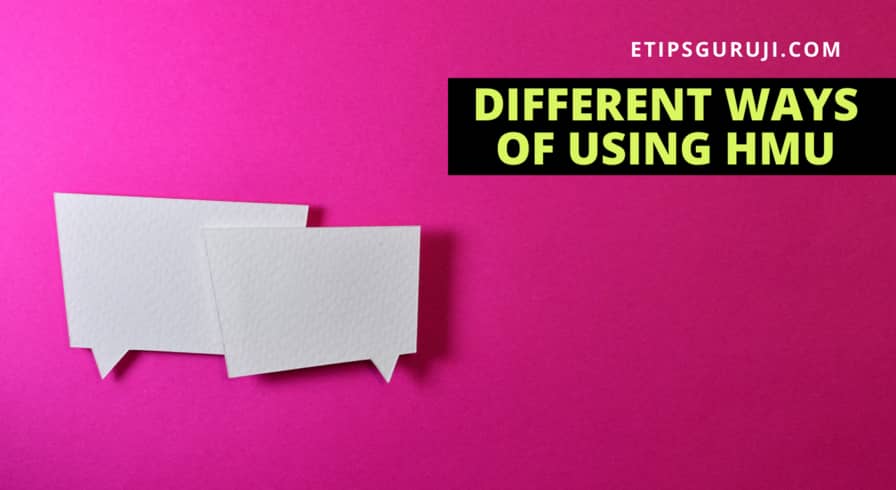 Here we listed some different situations in which you can use this slang word.
Suggestion to Meet-Up
If you use social media apps such as Instagram, Facebook, Twitter, and many more, then you can use this phrase to meet with new people, personally.
In general, this type of online slang is generally used when you have to meet a specific person at some time in the future.
Some examples of using the "hit-me-up" phrase for asking your social media friends for the outing.
We should go to see that new movie! HMU anytime.
Want to go to watch the next football match? hmu, I have one extra ticket.
hmu your names in the comment, who want to join the mountain trip this summer.
Request for Something
Hit me up phase can also be used to ask for the request, but informally. Don't try to use this key phase, if you are asking something to new people, as it seems too rude and arrogant. Moreover, a Big NO, for any formal way of asking.
Now, these are some of the few examples that can help you to ask a favor from your friends.
Where should I go for dinner with my family? HMU with ideas.
My mind got blank!!! hmu with your jokes.
Oh shit!!! Do you know, the teacher is going to complain about us? hmu how to stop her.
A Way of Flirting
This HMU slang phrase is quite popular on dating apps like Tinder or Bumble, to encourage conversation or date. Generally, Hit me up phrase is not always flirty, but it depends on the context of the conversation. 
The following is a form of a warm welcome text that you can write to your girlfriend.
We had fun last night. If you had no plan, HMU.
If you say yes!!! I have a nice plan for dinner. hmu asap.
This is the HMU meaning in tinder.
Providing Contact Details
You can also use this slang phrase for getting contact numbers or other contact details from your friends. With this phrase, you can ask someone's phone number, email address, or even their home addresses.
This is how you can use it for getting contact details.
I need a general manager if someone knows HMU on email@xyz.com.
Now you know what are the different ways of using the hit-me-up phrase, but before you use them in your online conversation, you should know some important combination of this word with other slang words.
Various Slang Words in Combination with HMU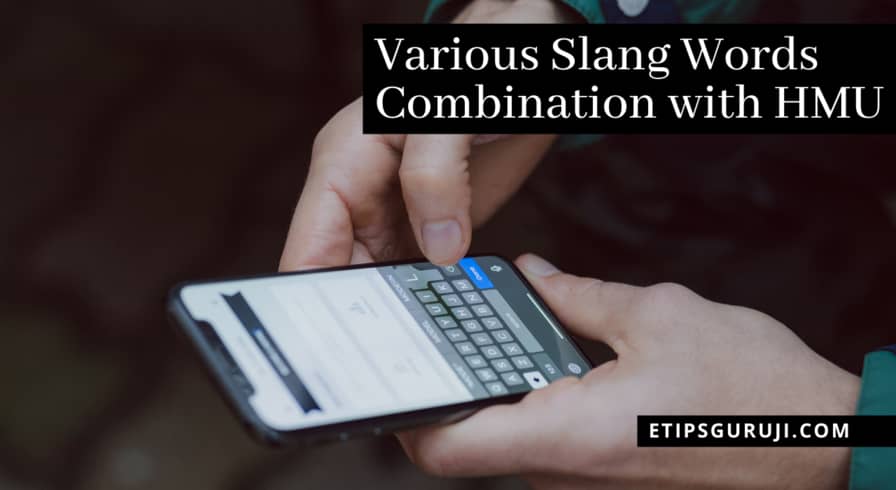 As one word can have a different meaning, it also implies to "hit me up" phrase with other different slang words. So, let's find out them one by one.
HMU With TBH
Here, TBH stands for "to be honest". When you use this phrase along with TBH, it means that you want someone to give you their honest opinion about something.
For Example:
Do you know May? She told me that she doesn't like the way I dress up yesterday. HMU for a TBH on her.
HMU with Plans
The word "plan" defines itself— planning or intending something. Hit me up phrase with Plans generally used when you are making some plans with someone or asking them to share his/her plan or opinion with you. They can also be used in informal conversations with your colleagues.  
For Example: 
Our basketball team is playing this weekend. HMU with plans, I can join you.
Lara reports that she will be in town tomorrow. If you are going somewhere, HMU with plans.
HMU with Plots
Plotting to accomplish something or in order to achieve something which is in your mind. You can also use this slang combination when you are looking for a way or a path to achieve your target.
For Example:
If you have something on Sara, HMU with plots. She is quite rude.
Peter has to pay for the joke he pulled yesterday on me. HMU with plots on him. 
HMU with Moves 
It means making moves or actions. And the term making moves means plans for a strike against someone or an organization. So, when you use "hit me up" phrase with moves, it generally means you are asking someone to participate or accompany you in the strike. 
Example: 
Uptown people take over the lane. HMU with moves, I'm down. 
The gang moves on our territory. HMU with moves, we just have to hit back.
HMU for FT
Hit me up phrase with FT simply states that you are asking someone to give a call through Facetime (video call conversation).
Example: 
I've never seen you in ages. HMU for FT anytime.
I really can't reach Jennifer. Could you please tell her HMU for FT later.
I'm quite busy right now in office work, could you please HMU for FT tomorrow?
Hit-Me-Up And Social Media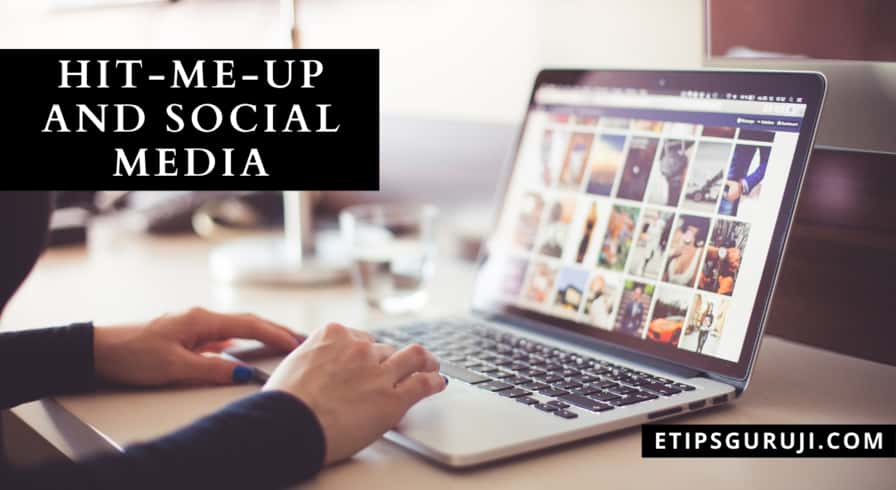 We use thousands of social media apps every day such as Facebook, Twitter, Snapchat. In all these apps, we use different popular slang in which one of them is Hit Me Up— that we already discussed.
In Facebook, this phrase is commonly used in the comment section of the post. Conversely, in Snapchat, this slang is used in chatting and tags. But what remains the same is its meaning and popularity.
This is why this phrase is one of the common acronyms that are used in social media apps. Statistically, there are more than 5 million posts per day get posted with the use of hit-me-up hashtag. And this stats are only for Instagram. Now, just imagine, what would be the number for all social media platforms.
Also Read:
Other Meanings of HMU
Here, is the list of some other meanings of the word "HMU":
Another way to say Hit me up are:
Help Me Understand
Hook Me Up
Hold My Unicorn
Hanoi Medical University
Hardware Mockup
Hydromechanical Unit
Height Monitoring Unit
Harlan Municipal Utilities (Harlan, IA)
Hollow Masonry Unit (construction)
Harbin Medical University (China)
Hair/Makeup (film production)
Hydrogen Manufacturing Unit
Helicopter Maintenance Unit
Hit Me Up (phone, text or email me)
Helmet Mounted Unit
Host Manifest Upload (UPS)
Height Measuring Unit (aircraft)
Hydro-mechanical Metering Unit
Harrison Middleton University
Hawler Medical University
Hainan Medical University
Harlock Murray Underwriting Ltd.
Here our topic on "HMU hit me up" ends. And in our next section, we listed some frequently asked questions that many users search on Google.
General FAQs
Is HMU flirty?
In general, no, it is not a flirty phrase. But it generally depends upon the type of contextual conversation you have. So, if you use this slang word in a flirty way, then there is no way we can't call it a flirty phrase.
What does HMU mean?
All we have stated a lot of meaning of this slag phrase but commonly, it means "hit me up". Moreover, there are many ways of using this term. You can use it for asking the contact details or to state the call me phrase.
What does HMU mean in the text?
As stated earlier, it could state a number of meanings in the contextual texting. Yet, they generally state one of the following meanings: requests for an immediate message/call, invitation to do something, asking for the collaboration, or arrange a plan for parting, meeting, etc.
Who uses Hit Me Up phrase?
Anyone can use this phrase term in their conversation but majorly used by the young adults who are using social media on a daily basis. People generally use this term for flirting, romance, friendship, or after a successful meeting online.
Is there another way to say "hit me up"?
Yes, there is another way to say "hit me up". These are some hit me up synonyms, you can use such as asking me, let me know, meet me, call me, give me a call, and many more.
Conclusion
If you found this article usefull, then share our post!
Finally, thanks for reading our post!