How to Edit a GIF Like a Pro? Android, Web Tools, Windows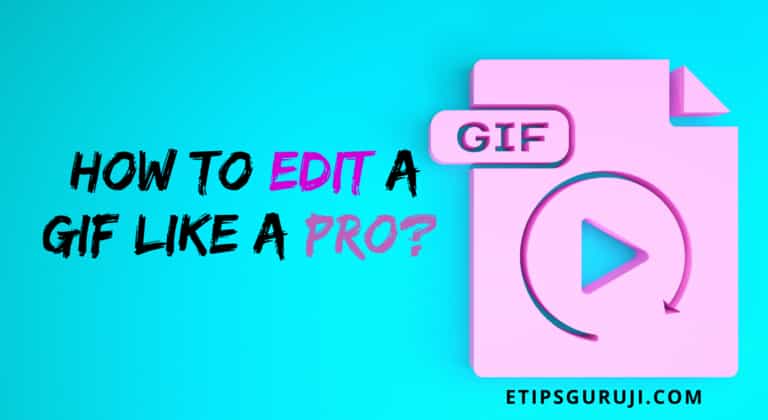 If you're wondering how to edit a gif? you come to the right place. In this article, we are going to introduce you to all the common ways to edit a GIF. This includes online web tools, android apps, and computer software.
But before going, any further, let's have a short overview of GIFs.
What is GIF?
A Graphics Interchange Format (GIF) is a type of computer file that contains a still or a moving image. It is one of the most common types of formats for moving images. They are quite well used nowadays, especially over social media.
While talking about its history, GIF was developed by a team of CompuServe — an American online service provider— which is led by an American computer scientist Steve Wilhite.
Quick Facts About GIF
Filename extension: gif
Internet media type: image/gif
Type code: GIF, Giff
Uniform Type Identifier (UTI): com.compuserve.gif
With this our short introduction gets finished, now it's time to move to our main topic i.e. How to edit a gif?
People Also Read:
How to Edit a Gif on the Computer?
To edit gif on the computer, we are using one of the famous free tool called MiniTool MovieMaker on a windows pc. However, the tool is also available for Apple users.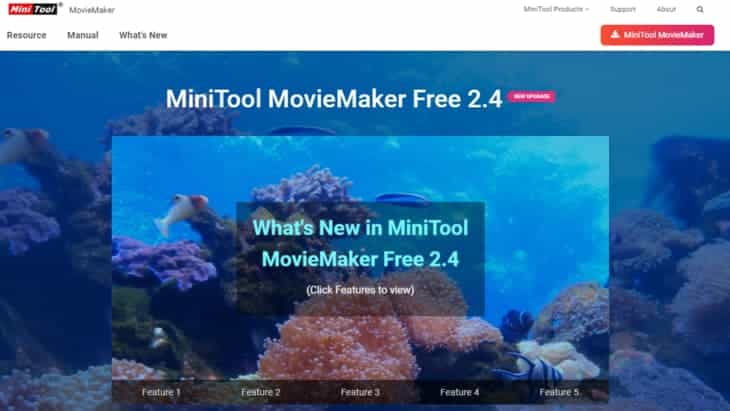 These are the followings steps that help you to edit a GIF on your computer by using MiniTool MovieMaker:
Step 1: Download and Install the app.
Step 2: Start the software and enter its main interface.
Step 3: Click on Import Media Files to add your favorite GIF to the Media Library.
Step 4: Drag and drop the target GIF to the timeline.
Step 5: If you want to remove some frames from GIF then click on the scissor icon to split the GIF. Now select the frame you want to remove and click on the delete option. 
Step 6: For adding the text to GIF, switch to the text tab that gives you a lot of options so choose your like one. Select or drag and drop the caption to the text timeline and enter the text. Here you can do a lot of stuff such as you can change the font color, size, and type of the text. You can also move the text on the GIF wherever you want.
Step 7: Now click on the apply button if you have done your changes.
Step 8: If you want to adjust the time duration, you just have to move one side to the left or to the right.   
Step 9: Click on the 'Export' button that is at the top right column. By default, it saves in mp4 format, so, clicks on the drop-down button and select GIF format from the list.
Step 10: Finally, click on the "Export" button, and it will save the edited GIF into the respected locations.
How to Edit A GIF on a Smartphone?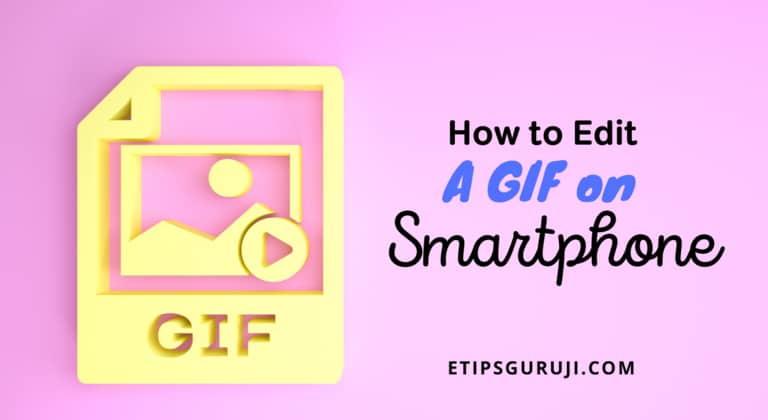 If you have a smartphone, whether Android or iPhone, you can easily edit a gif using various Gif editor app. For the android users, the most recommended app is GIF Maker & GIF Editor & Video Maker app. Whereas, for the iPhone or iPad users the most recommended app is GIF Maker – Video to GIF Maker.
In this guided post, we are using an android phone to resolve your query of "how to edit a gif?".
Step 1: Download and install GIF Maker & GIF Editor.
Step 2: Now, open the software and go to the main interface.
Step 3: Click on the Edit GIF option and choose the GIF you want to edit.
Step 4: After editing, you can save it on your phone.
How to Edit A GIF Using Web Tools
One of the most recommended Gif editors is the EZgif.com. This web tool is a very versatile work such as GIF-making, video to GIF, resize, crop, GIF optimizer, adding effects, adding text. This is how you can edit a Gif using ezgif.com.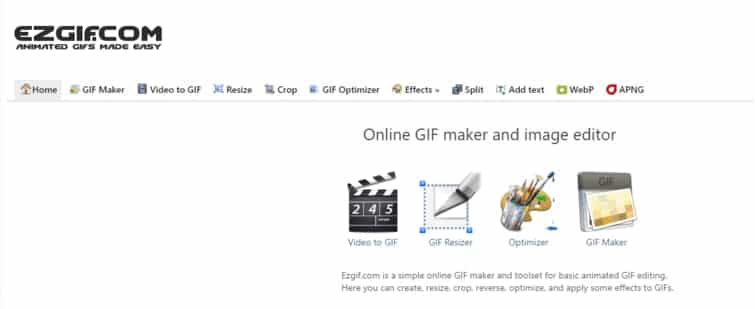 Step 1: Open your favorite browser and go to EZgif.com.
Step 2: Now, the go-to editing tool option in the toolbar. Select the one you like to use. 
Step 3: Drag your mouse button on Effects and select the option which you want from the pop-up list.
Step 4: Select your Choose File to add the GIF and click the Upload button.
Step 5: Edit the GIF and press the button to continue.
Step 6: At last scroll down the page and click the SAVE button to download the GIF.
With this, we almost have done with our article on "how to edit a gif?" But here are two more topics that may let you create a very editable GIF.
How to Make a GIF on Mobile?
You can make a GIF on mobile by using an app name GIPHYCam. Here, is the following simple step to make a GIF on mobile.
Step 1: Start the app and tap to the photo button to take or record a gif (video).
Step 2: You can choose a filter, or may add stickers/text to your GIF.
Step 3: Now, save your GIF and share it with your friend. Moreover, you can also edit a gif here.
Also Read:
How to Make a Screen Recording GIF?
Apps like GIPHY Capture, ScreenToGif, LICECap, and GifCam give a platform to make a screen-recording GIF. The following are the step listed below to make a screen-recording GIF.
Step 1: Start the screen-recording GIF app.
Step 2: Now, record your on-screen activity within the recording overlay. For this, press the circular red button in the center to record or to stop the recording.  
Step 3: Go to the GIF menu, where you can customize your GIF recording. However, it gives you many options including the loop-type (normal, reverse, or ping-pong) pixel size, and frame rate.
Step 4: To trim your GIF, you just have to drag the tabs in, from the left or the right. You can also add captions from the caption option.   
Step 5: Now save and upload your GIF. 
With this, our article on the topic "How to edit a Gif?" ends, Feel free to check other informative articles in the field of computer science and information technology.