12 Locast Alternatives for Free Live TV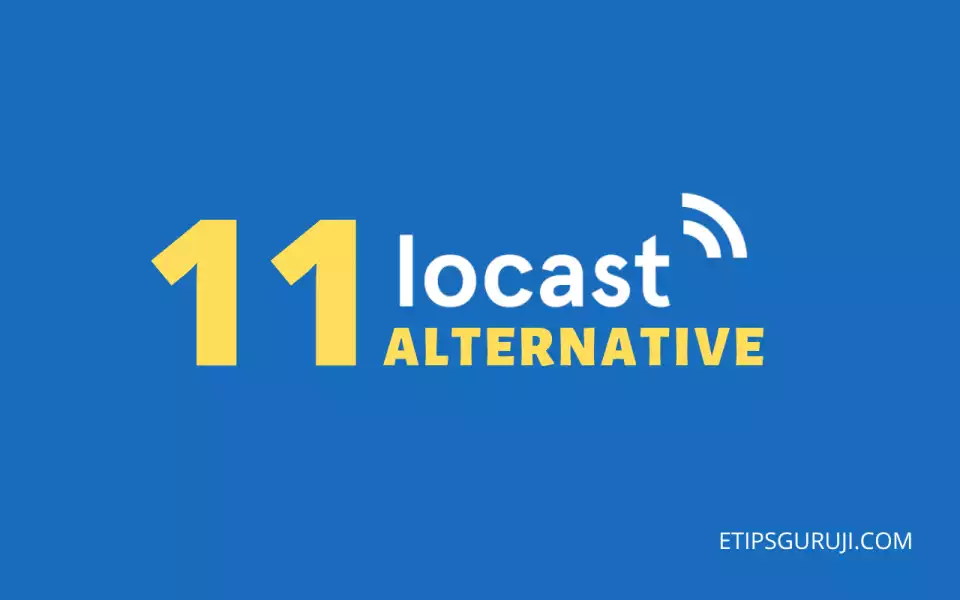 Following is the list of best alternatives for Locast so that you can enjoy free live tv.
1. Pluto Tv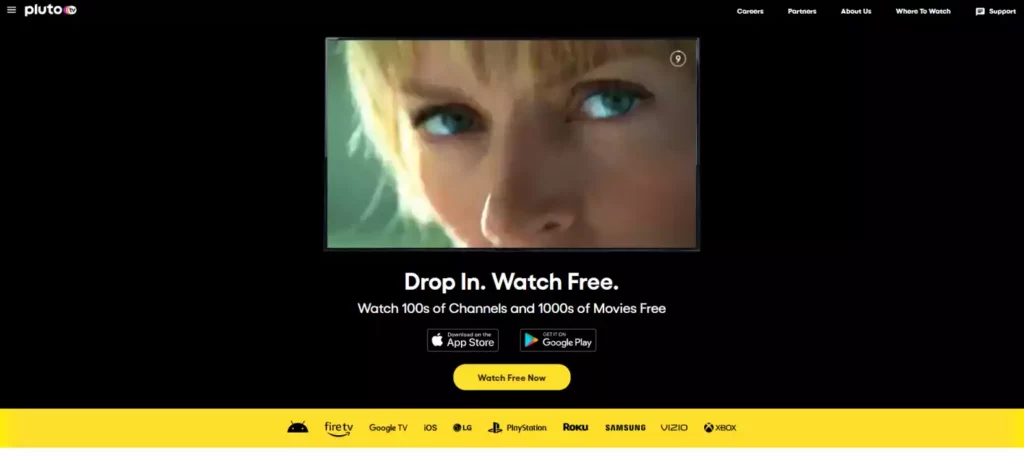 Pluto Tv is an Over the top (OTT) and advertiser-supported video-on-demand (AVOD) service provider. Pluto Tv is the best Locast alternatives and free T.V. streaming platform that can't add any additional charges to your pocket.
There are more than 250+ live channels along with Hollywood movies and TV shows that you can watch for free without any hidden cost. You only have to watch some ads, and that is how they manage to provide you free access.
One plus point is, that you don't have to register or make an account in the Pluto TV app. However, I would suggest, you should make one. There are some unique and customizable options you'll get with a favorite channel list, history, and special recommendations based on your genre.
Features Pluto Tv Provides free
Compatible with every device 
On-demand content available 
250+ Free channels 
Live T.V. 
Available on Smart T.V. or Set-top box application
The device on which Pluto TV service is available: Pluto Tv is available on many devices, including Amazon Fire T.V., Android, Android T.V., Apple T.V., Chromecast, IOS, L.G. Smart T.V., PS4 & PS5, and ROKU. 
2. XUMO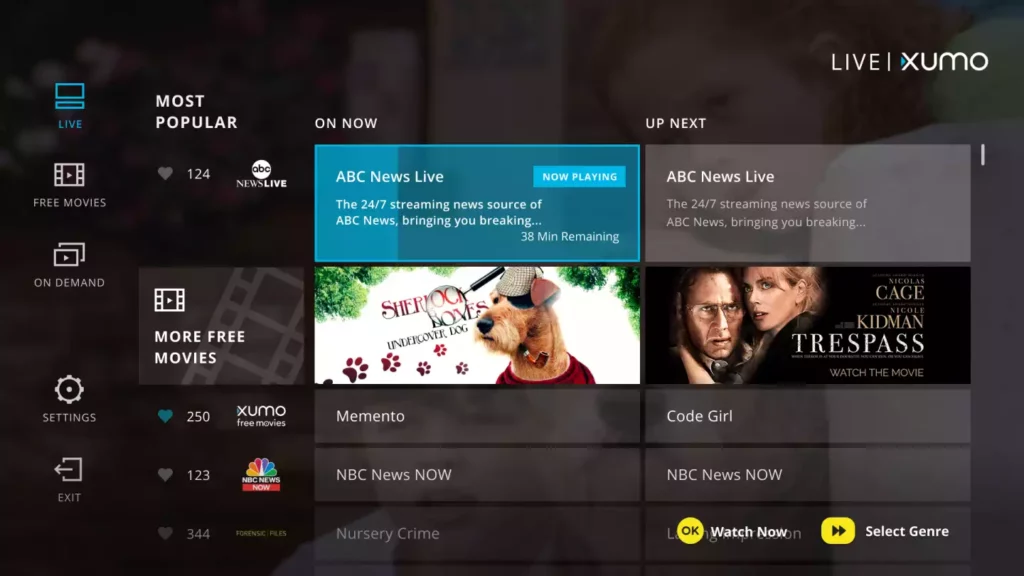 XUMO is a TV app that gives you access to more than 160+ channels and a vast library of Hollywood movies and streaming content for absolutely free. XUMO does charge for its customers but compensates with the cost of the display and video ads. It is available in the United States, Canada, France, Germany, the U.K., Italy, Spain, Brazil, and Mexico.
Features XUMO Provides For Free:
160+ channels
1000+ Hollywood movies
Family-friendly and kids programs
24/7 live news.
Most popular TV shows
Sports coverage
Entertainment
Devices XUMO service available: You can easily download the XUMO streaming app on your streaming device including Apple TV, Android TV, RUKO, Amazon fire TV, etc.
3. Stirr
Stirr is an American T.V. streaming service owned by the Sinclair broadcast group. Stirr TV offers over 120+ live T.V. channels and more than 8000+ hours of T.V. shows and movies for absolutely free. But, this app is supported by ads, meaning you will see ads while streaming this app. 
To watch the list of shows on various channels, simply open the guide section where you will find a list of the latest streaming platform over 120+ channels. Here, you can also find a good movie library, but not as many as other free streaming services.
Features Stirr provides for free: 
More than 120 free virtual channels 
720 HD 
Stereo audio
Compatible with many devices 
Huge movie library
Devices on which Stirr is available: iOS and Android devices, Amazon FireTV, Apple TV, Roku, and the web application.
4. Tubi TV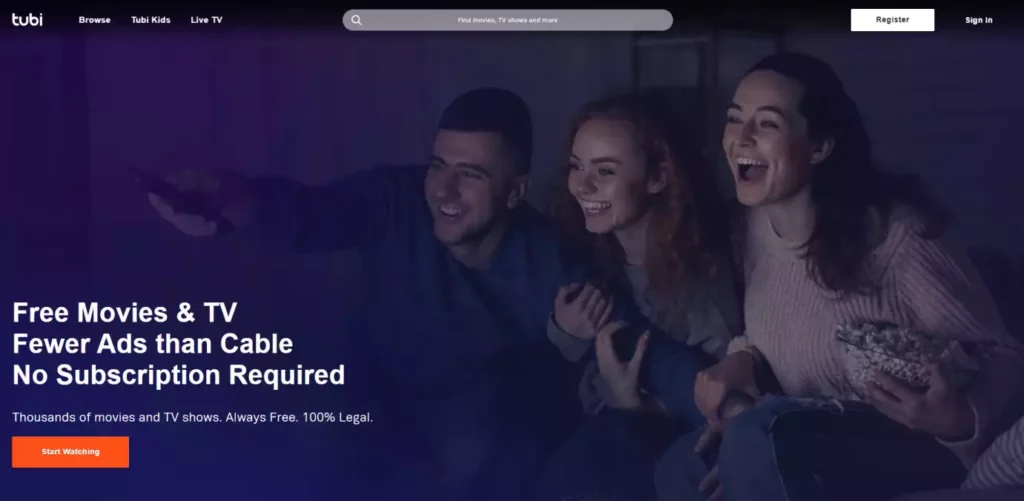 Tubi Tv has one the most active subscribers— 25 millon/month. You can all it one of the best alternative to Locast streaming service based on special permission content by MGM, Paramount, and Lionsgate.
It was founded in the year 2014 and become one of the most popular for streaming MGM, Paramount and Lionsgate featured movies and series. They also funded by display and video ads between programs.
Features Tubi Tv Provides for free
20,000 old T.V. shows available 
Live channels 
Free live streaming
25+ million active monthly users 
No joining fees
Device on which Tubi Tv service is available: Roku, Apple TV, Fire TV, Smart TVs, web browsers, iPhones and iPods, Android phones and tablets, Chromecast, Xfinity x1, Cox Contour, Xbox One, Playstation 3 and 4.
5. NewsOn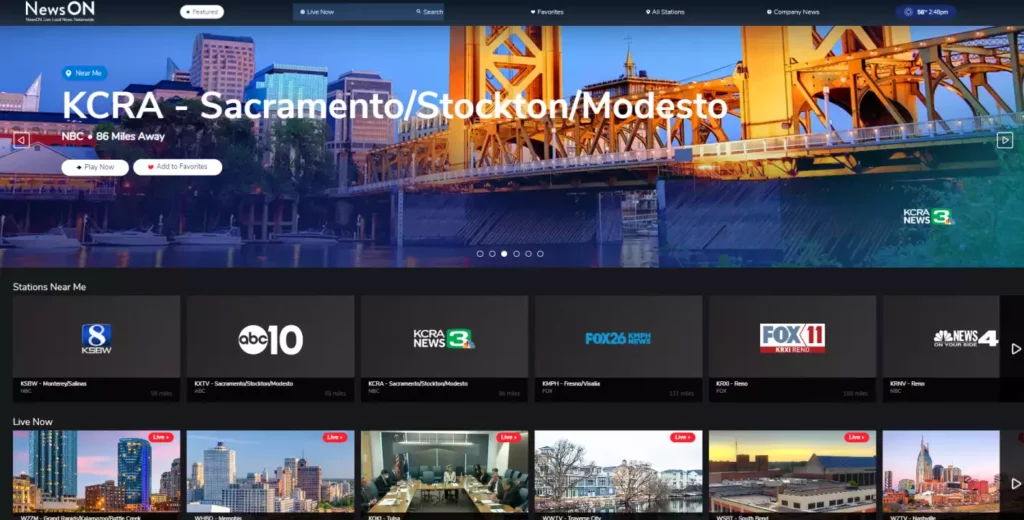 NewsOn is one of the best local news streaming platforms. The NewsOn app is free, and you can stream 118 news stations for absolutely free.
The best part of this news streaming platform is that you don't have to watch the news live; you can watch it anytime. You don't have to wait for the news to Air on big news channels, you can access on-demand local news channels on your device.
Features NewsOn Provides free
Stream Local News for free
118 News stations
Stream previous newscasts up to 48 hours 
Watch breaking news
Local coverage
LiveStations feature
Available Nationwide
Devices on which NewsOn is available: Roku, Android, and IOS devices, Apple T.V., and Amazon Fire T.V. 
6. Local Now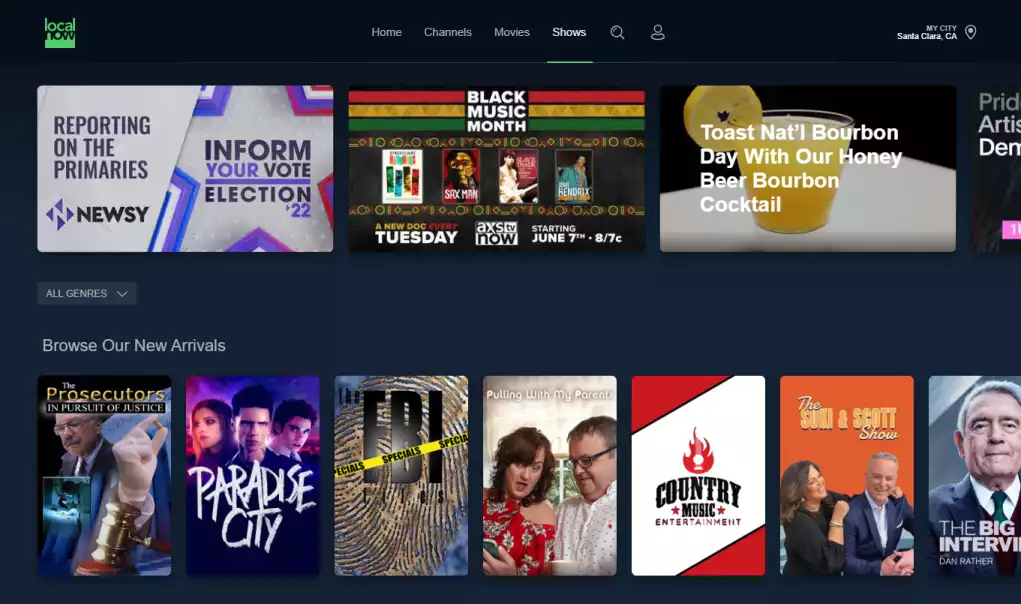 Local now is a news streaming platform owned by The Weather Group. This app was launched in 2016 to provide local news digitally. This app provides a playlist of weather, news, sports, lifestyle, entertainment, and many more to stream. 
Before 2018 this app was a subscription-based app where users had to pay a specific amount to use this app. But in 2018, Entertainment Studios acquired this app and made it 100% free to use. You can easily stream news, sports, and many more on Local Now for absolutely free. 
Features Local Now Provides for free
Watch Local news and weather 
Important stories from all over the U.S.
Get updated
Latest Movies 
T.V. programs 
Devices on which Local Now service is available: Roku, Android, and IOS devices, Apple TV, and Amazon Fire T.V. 
7. Local BTV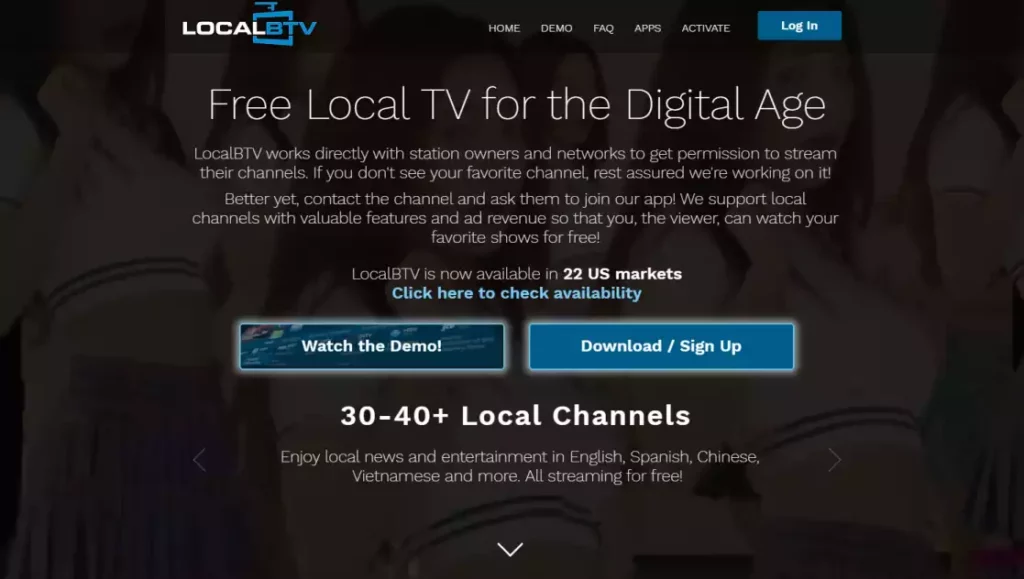 Local BTV is similar to Locast and one of the best alternatives to Locast. The Local BTV also offers free live streaming. You can stream some local channels across the United States through this app.
Unlike Locast, Local BTV has agreements with all the channels to stream on their platform. So, this app is unlikely to shut down, like Locast. 
One of the major drawbacks is availability. Local BTV services are only available in some places in the United States such as New York, Philadelphia, Chicago, and many more.
And for the usage, you need to signup—which is free—to access all channels.
Features Local BTV Provides free
Record your favorite show
Watch anywhere in your area 
30-40+ local channels
Supported on various devices
Available in 22 U.S. states
Devices on which Local BTV service is available: ROKU, Apple Tv, Android Tv, Google Chromecast, and Fire T.V.
8. Haystack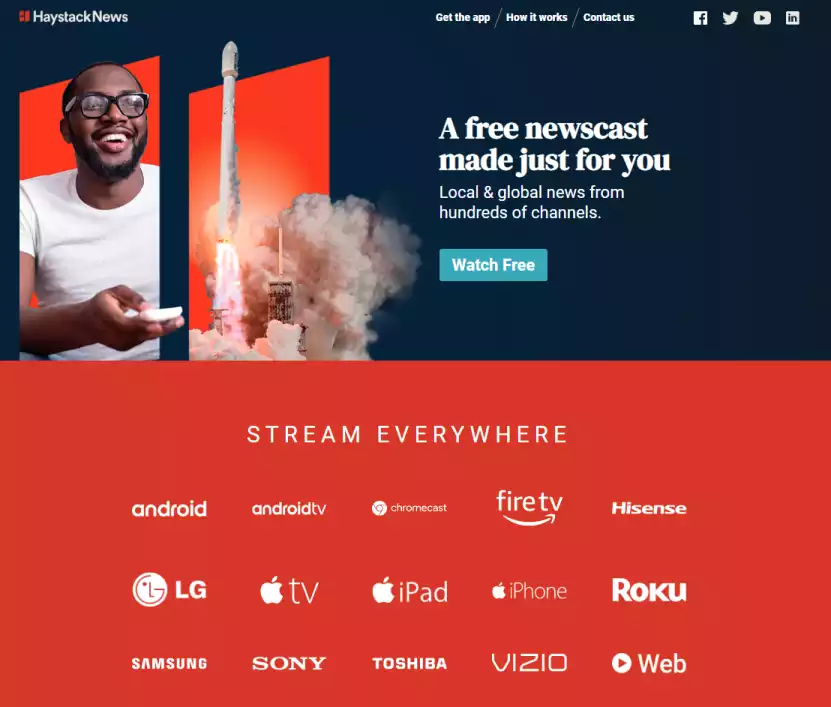 Haystack app is one of the best for streaming local tv on various devices for free. It would be a very great alternative to Locast for you if you want to stream global news. It offers 300 channels—both local and global news— with a variety of media that offers unlimited entertainment to its users.
The platform is well designed, and all the streaming channels are categorized based on genre, topics, or sources. You can even search a specific news channel or any channel based on your interest. The most common news categories available are international news channels, business-related channels, and climate reporting channels.
Features Haystack Provides for free
300+ channels for free
Best Local and global news source 
Live streams of national news
Free download 
Local and national videos stories are available
Devices on which Haystack service is available: ROKU, Apple TV, Android TV, Chromecast, Smart TVs, and Fire TV.
9. Crunchyroll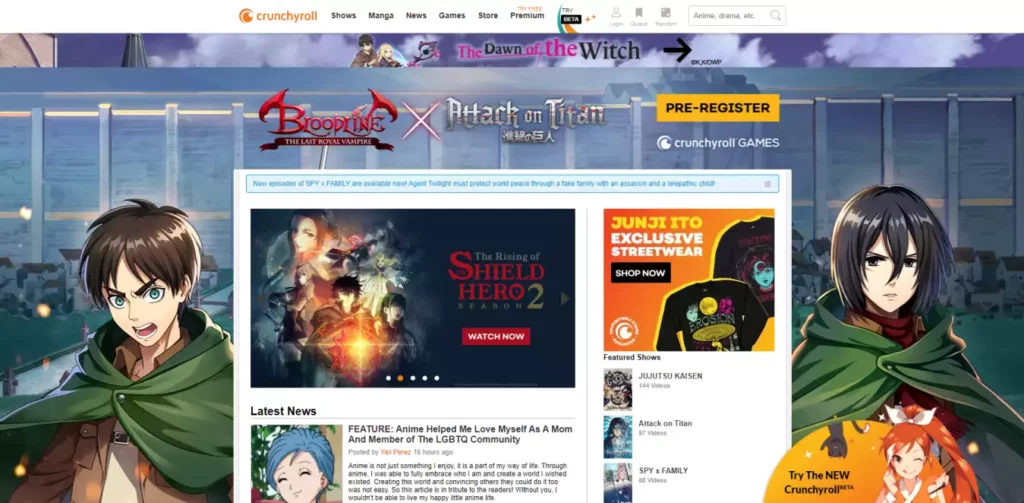 Anime lover! You love Crunchyroll too. It is one of the most famous stream platforms and the best alternative for Locast in the anime section. This app provides free anime, some movies, and series.
Features Crunchyroll Provides for free
Huge anime collection
Access to extensive drama library
Stream across various devices 
Latest animes 
Discounts for purchasing the premium version
Device on which Crunchyroll service is available: Crunchyroll app is available on various platforms, majorly on android, apple, smart TV and Roku devices.
10. AiryTV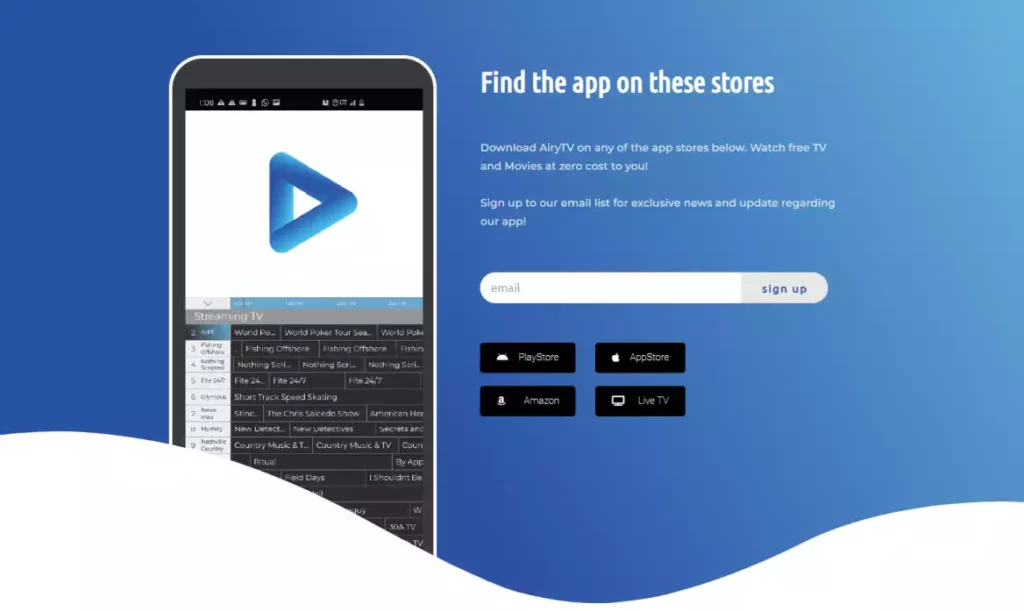 AiryTV is an Ads-supported video-on-demand (AVOD) service provider. This app provides a live TV streaming service to its users without any cost. It is entering free. This is one in all applications, so you don't have to go to any other website for any movies or shows.
Disadvantage: App is only available for android and apple TV. No app for Roku.
Features AiryTV Provides for free
Wireless online T.V.
Rewards monetization program
Accessible on multiple devices 
T.V. shows and Movies
The device on which AiryTV service is available: Android devices, IOS devices, Android TV, Fire TV, and Apple TV.
11. USTVGO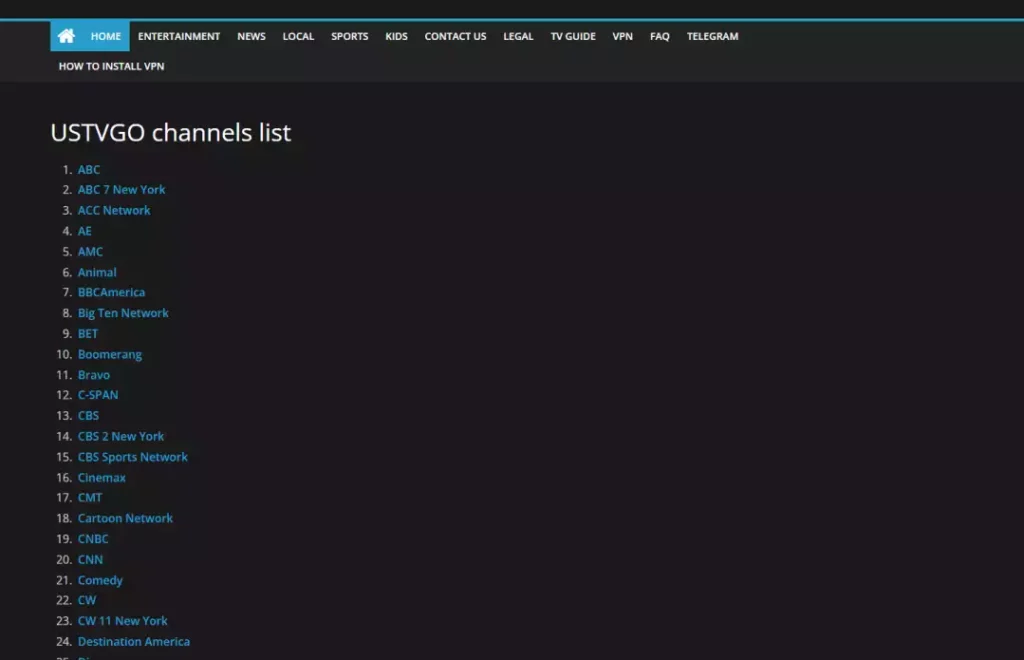 USTVGO is a free-to-use On The Top (OTT) TV streaming service which provides local live news, entertainment, sports, movies, and other shows for absolutely free across the United States.
Like most of the free streaming services, they generate revenue based on ads. There are more than 100 channels with special local news channels.
Features USTVGO Provides for free
Free live streaming
Live news
Sport matches
TV Shows and entertainment 
100+ TV channels 
Devices on which USTVGO service is available: Smart TVs, Android devices, and IOS devices.
12. Reelgood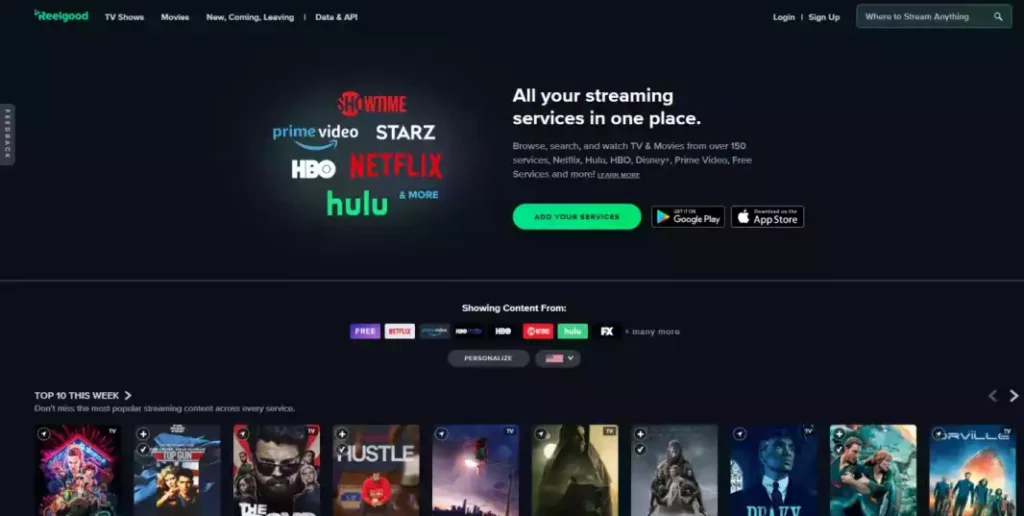 Reelgood is a free consumer app that works as a TV Guide for streaming services, providing users with a personalized view of all the movies and TV programs accessible to them across many streaming platforms in one spot.
If you want a more premium experience, however, you may pay a monthly subscription to watch all movies without being interrupted by advertisements.
Don't pay for movies that are freely available online.
One thing is certain: Reelgood is one of the most extensive streaming guides available, with almost every film and television show ever produced.
You can also download the free Reelgood app for your Android or iOS device.
Read More: