13 Best Chrome Extensions for Scraping Data Easy and Effective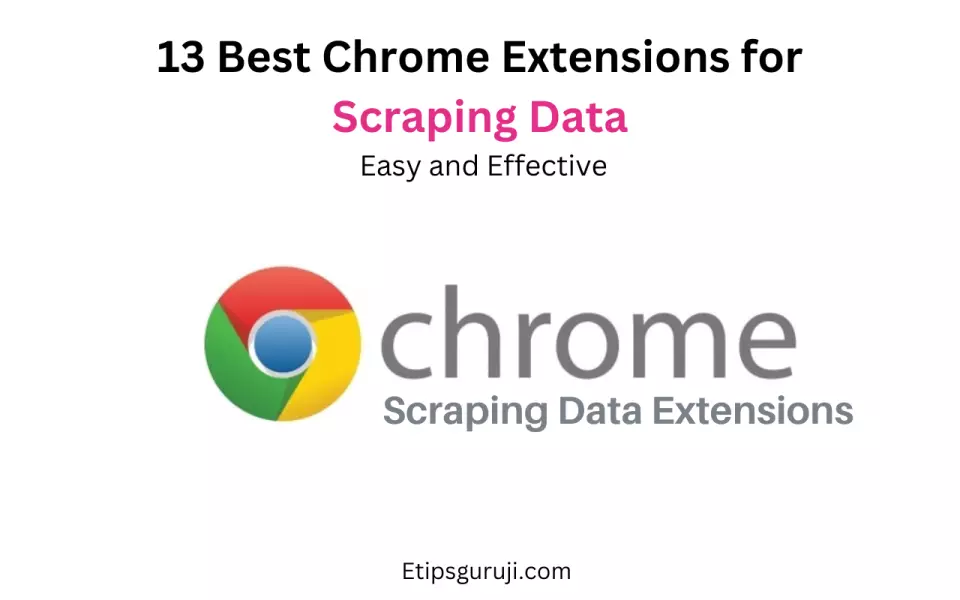 Welcome to the world of Chrome extensions for scraping data!
These handy tools help you extract valuable data from the web, right from your browser. From real-time extraction and conversion to scheduling and competitive analysis, there's a tool for every need.
Read on to discover their unique features and how they can elevate your data gathering game! Here is the list of 13 chrome extensions for scraping data with chrome browser:
1. WebScraper.io Extension (Most Recommended Free Extension)

The WebScraper.io Extension is a free tool designed for fast and reliable data extraction. It shines for its straightforward point-and-click interface, which requires no coding experience.
If you are new to the world of web scraping or simply prefer a no-fuss, user-friendly approach, this extension is a solid choice.
Key Features
Users Count: 600,000+ users
Real-time data extraction: Extract data from complex websites in real-time, ensuring up-to-date information.
Export options: Easily export the data you've collected to CSV or Excel files, or even directly to an API.
Best Use Cases
Beginners: The easy-to-use interface makes it a perfect starting point for those new to web scraping.
Small to medium scale scraping projects: Its free tier and intuitive nature make it suitable for less extensive scraping tasks.
2. Hunter.io (Most Recommended Paid Extension for Data Scraping)
Hunter.io is a unique tool that specializes in finding email addresses on web pages. Starting at $49 per month, it's an ideal tool for lead generation and contact discovery.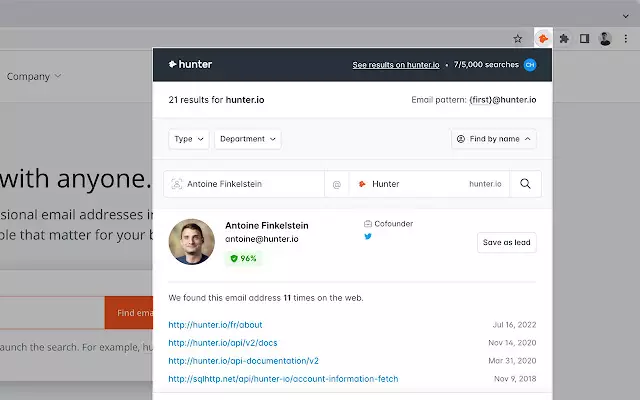 Key Features
Users Count: 600,000+ users
Email Address Discovery: Its crawler scans through a vast array of web pages, trawling for email addresses hidden amidst the code and content.
Verification: It does not just stop at gathering emails. Hunter.io verifies the authenticity of each email address, ensuring that each lead is not just genuine but also currently active.
Best Use Cases
Hunter.io comes into its own when applied to:
Lead Generation and Contact Discovery: Sales professionals and recruiters will find this an invaluable tool to discover new contacts, increasing their leads.
Email Marketing Research: Marketers can use this tool to find potential targets for their campaigns, ensuring their outreach is more effective.
3. Phantom Buster
Phantom Buster is another excellent tool for data scraping. Priced at $59 per month, it offers easy data scraping and has the unique feature of pulling up session cookies for the website you're connected to.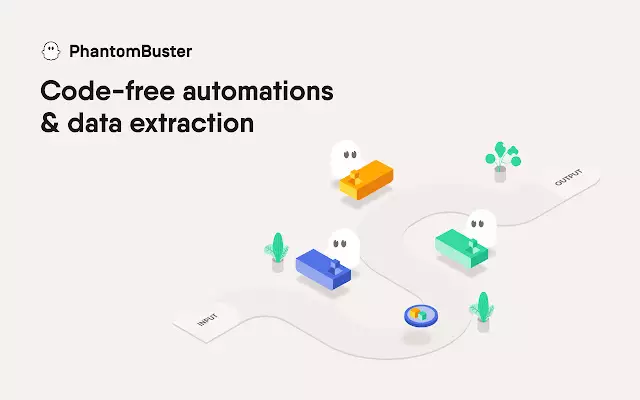 This feature allows you to interact with websites more seamlessly, making it ideal for robust data extraction tasks.
Key Features
Users Count: 200,000+ users
Advanced scraping capabilities: Phantom Buster shines when it comes to scraping social media platforms and other complex sites.
Session cookie retrieval: This feature allows for seamless interaction with website elements, helping you extract the most valuable data.
Best Use Cases
Robust data extraction tasks: If you're dealing with complex websites, Phantom Buster's advanced capabilities can handle the challenge.
Projects requiring interaction with website elements: If your project involves data extraction that requires interactions with website elements, the session cookie retrieval feature makes this process smooth and effective.
4. Scraper Chrome Extension for Scraping Data
Scraper is a free extension that's ideal for intermediate and advanced users. It offers instant data scraping and transforms data into spreadsheets, a feature that's very handy for conducting online research or working with structured data on websites.

Key Features
Users Count: 100,000+ users
XPath support: Scraper provides support for XPath, allowing for precise data extraction from complex websites.
Quick export to Google Sheets: Once your data is scraped, you can quickly export it directly to Google Sheets.
Best Use Cases
Online research: Scraper's ability to quickly transform data into spreadsheets makes it a strong tool for online research.
Working with structured data on websites: The XPath support allows you to target and extract specific data, making it a useful tool for projects involving structured data.
5. Data Scraper Chrome Extension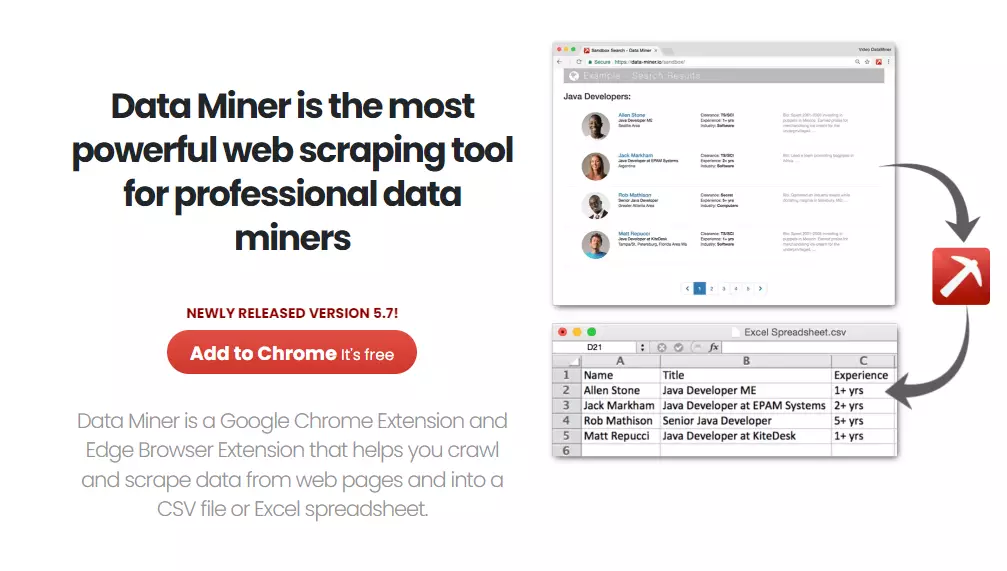 Data Scraper is a more comprehensive tool that's free for scraping under 500 pages per month, but requires payment for more extensive use.
It's suitable for scraping data from any website, making it a versatile tool for various projects.
Key Features
Users Count: 200,000+ users
Advanced data extraction tools: Data Scraper comes equipped with tools that can handle complex website structures.
Support for complex website structures: Even if you're dealing with intricate websites, Data Scraper can effectively extract the necessary data.
Best Use Cases
Large-scale data scraping projects: If you're regularly scraping a large number of pages, Data Scraper is a worthy investment.
Frequent users: If you find yourself needing to scrape many pages monthly, Data Scraper's paid tier offers more capacity.
6. Agenty Chrome Extension of Scraping Data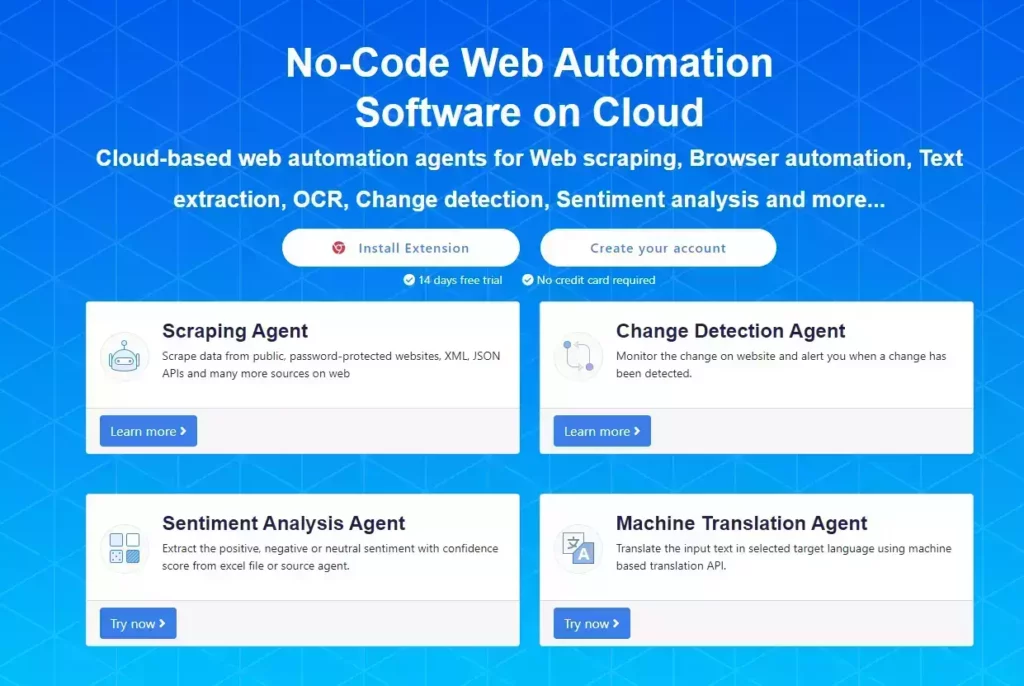 Agenty has positioned itself as the king of anonymity when it comes to web scraping. With its automatic IP rotation and use of proxies, it is the go-to solution for projects that require a high level of anonymity.
Key Features
Users Count: 200,000+ users
High-Level Anonymity with IP Rotation: Agenty's auto IP rotation keeps the scraping anonymous, avoiding IP blocks from the websites being scraped.
Cloud-Based Scraping Capabilities: This feature allows users to scrape data at scale, bypassing the limitations of local machine resources.
Best Use Cases
Agenty proves particularly potent for:
Projects Requiring High Level of Anonymity: Sensitive projects or those prone to IP blocking will significantly benefit from Agenty's robust anonymity features.
Large Scale Scraping from Websites with IP Blocking Mechanisms: The platform's ability to bypass IP blocking mechanisms allows it to scrape large amounts of data without being hindered.
7. Simple Scraper (Best for MacBook Users)
For users seeking straightforward solutions, Simple Scraper provides an easy and intuitive approach to creating tables from extracted data. Its focus lies in ease of use and simplicity.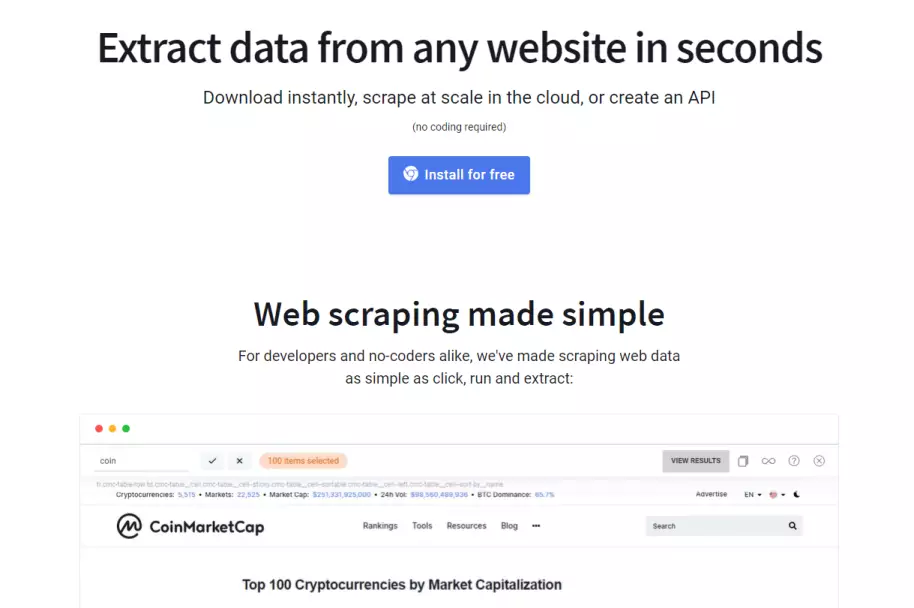 Key Features
Users Count: 200,000+ users
Simplified Data Extraction and Transformation: Simple Scraper enables users to extract data and transform it into a more usable format without requiring advanced technical skills.
Streamlined Data Organization into Tables: It automatically organizes the scraped data into neat and readable tables.
Best Use Cases
Simple Scraper excels in the following scenarios:
Users Who Need to Quickly Create Tables from Scraped Data: Researchers, analysts, or anyone needing to quickly visualize and analyze data will find this tool especially useful.
Projects Focusing on Data Analysis: Due to its easy-to-use data extraction and tabulation features, it is a great fit for projects revolving around data analysis.
8. Listly Chrome Extension for Scraping Data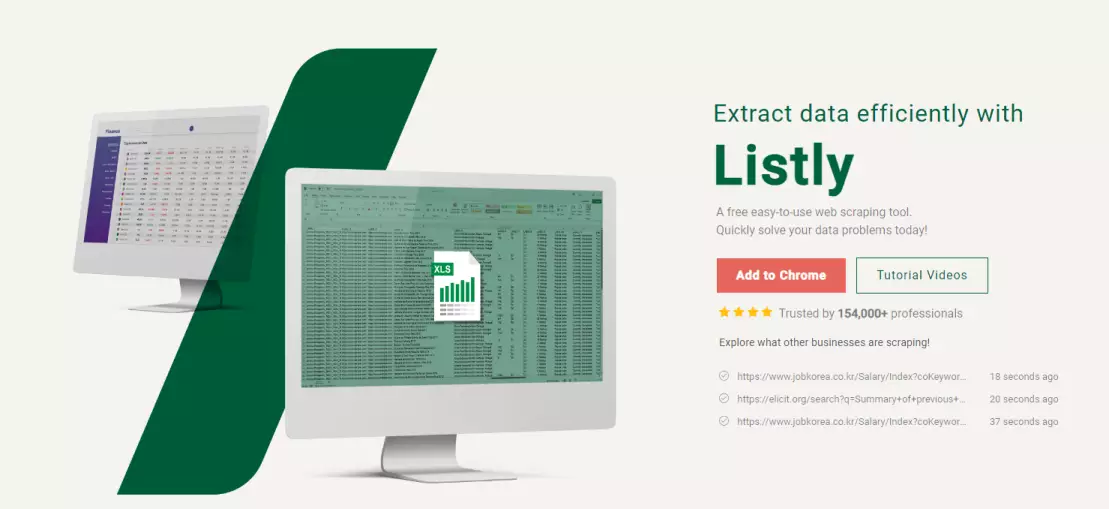 Listly makes its mark as a powerful tool for scheduling daily data extractions. Its Chrome extension allows users to set up scheduled data harvesting from their browser, making it a great asset for tasks requiring regular data updates.
Key Features
Users Count: 90,000+ users
Scheduled Data Extraction: Listly provides a robust scheduling feature, allowing users to automate daily data extractions.
Browser-Based Operation: Operating as a Chrome extension, Listly offers the convenience of initiating scraping tasks directly from the browser.
Best Use Cases
Listly is best suited for:
Recurring Data Extraction Projects: Its scheduling feature makes it ideal for projects that require daily data updates, such as tracking price changes or social media sentiments.
Browser-Based Data Harvesting: For users who prefer working within their browsers, Listly is an excellent choice.
9. Grepsr Browser Extension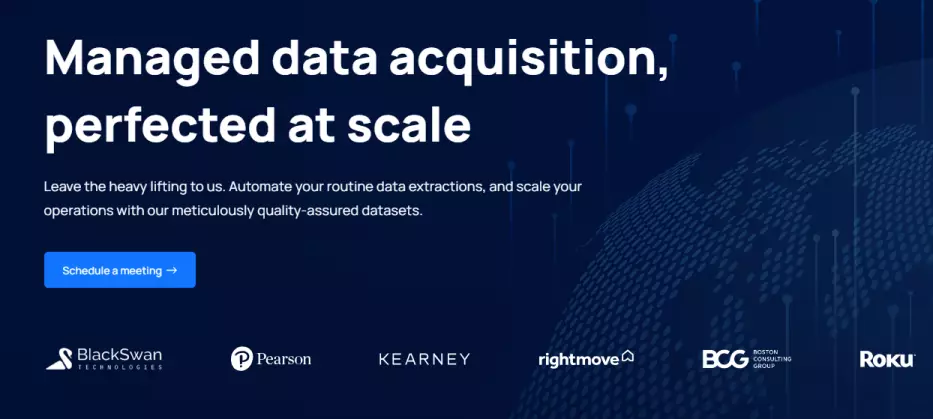 Grepsr Browser Extension is a powerful web scraping tool ideally suited for users looking to extract data from any website and convert it into an API or spreadsheet format. This tool works best as a Chrome extension, allowing users to harvest and manipulate data directly from their browsers.
Key Features
Users Count: 10,000+ users
Web Data Extraction: Grepsr excels in extracting data from web pages, covering all kinds of data from text to images and more.
Data Conversion into API or Spreadsheet: One of the standout features is its ability to convert extracted data directly into an API or a spreadsheet, providing versatile use cases for the retrieved information.
Best Use Cases
Grepsr Browser Extension can be put to good use in scenarios such as:
Real-Time Data Extraction: Its ability to operate directly from the browser allows users to gather data in real time, making it suitable for projects requiring up-to-date information.
Data Conversion for Developers: For developers needing to work with APIs, the conversion feature of Grepsr can be a game-changer.
10. Scraper Parsers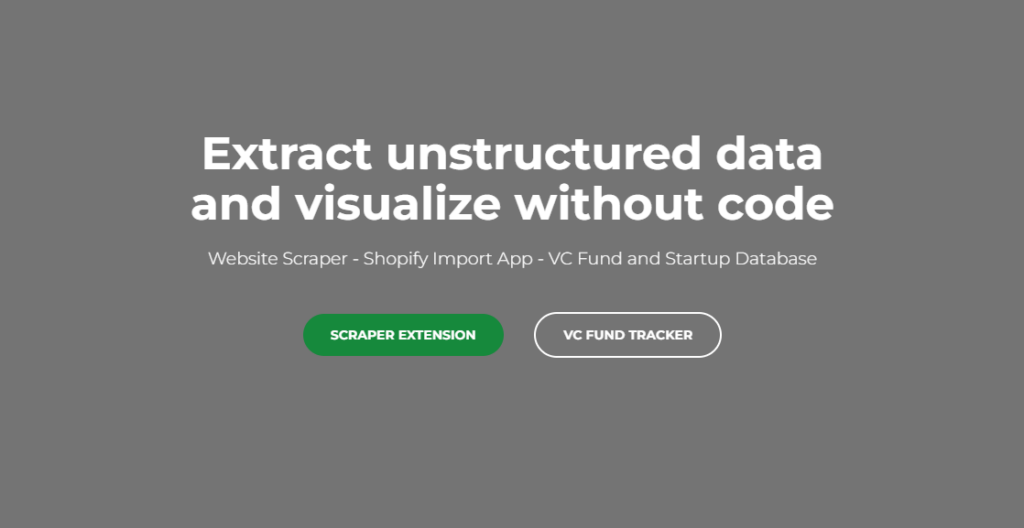 Scraper Parsers stands out as a powerful tool specifically designed for competitive analysis. It provides valuable insights into competitors' prices and market positions, making it a go-to tool for businesses wanting to stay ahead of the curve.
Key Features
Users Count: 10,000+ users
Competitors' Price Analysis: Parsers specialize in scraping data related to competitors' pricing, helping businesses to formulate effective pricing strategies.
Market Analysis: It also provides insights into market trends, helping businesses to understand the competition and market better.
Best Use Cases
Parsers is most effective when used for:
Competitive Pricing Analysis: Businesses aiming to understand their competitors' pricing strategies will find Parsers exceptionally useful.
Market Trend Studies: Companies conducting market trend analysis will greatly benefit from the insights provided by this tool.
11. Spider Chrome Extension for Scraping Data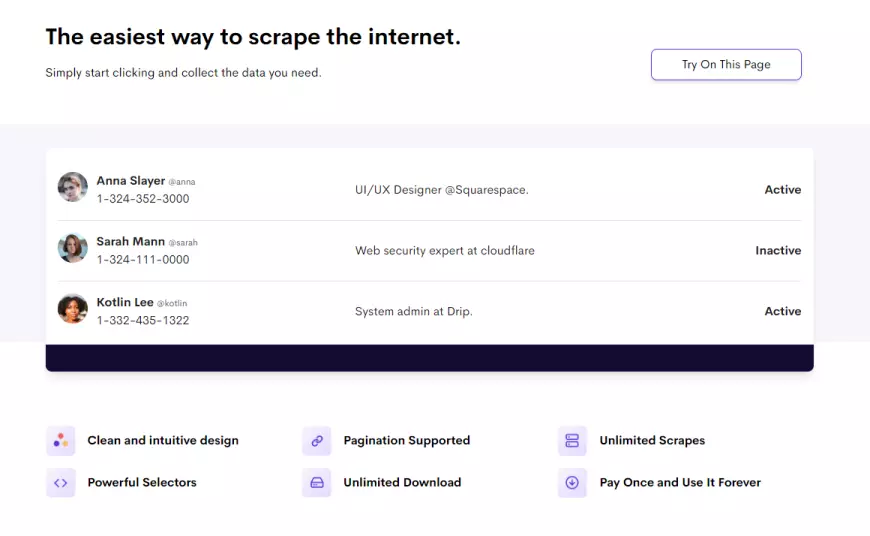 Spider makes data extraction effortless with its point-and-click procedure, allowing even beginners to efficiently scrape data from the web. Its ease of use and intuitive nature make it an excellent tool for non-technical users.
Key Features
Users Count: 8,000+ users
Point-and-Click Data Extraction: Spider allows users to extract data from web pages simply by pointing and clicking on the desired data, eliminating the need for complex coding.
User-Friendly Interface: It comes with an intuitive interface that makes data extraction a breeze, even for beginners.
Best Use Cases
Spider shines in scenarios such as:
Beginner-Friendly Web Scraping: With its point-and-click feature, Spider is an excellent tool for beginners who want to extract web data without the hassles of coding.
Quick Data Extraction Tasks: For quick and easy data extraction tasks, Spider is an unbeatable choice.